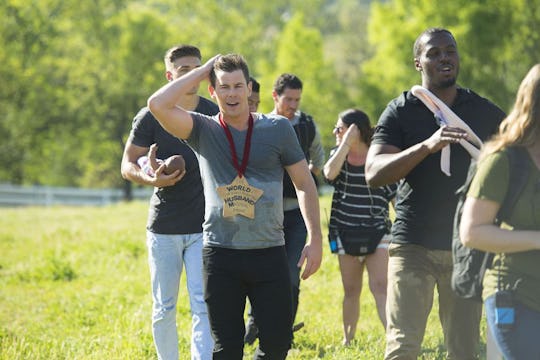 Michael Yada/ABC
Lucas Was In For A Whaboom Surprise On 'The Bachelorette'
When Lucas was sent home Monday night, it wasn't a big shocker for most viewers — and for many, it was a long time coming, even if he only lasted a couple of rose ceremonies. But he did make Rachel laugh and continue to smile for the most part, so why did Rachel eliminate Lucas on The Bachelorette? The "whaboom" guy lasted longer than I thought he would, which was the first rose ceremony in the season premiere, but it has been clear from the beginning that his intentions with Rachel and The Bachelorette as a whole were questionable. He went into the show with a catchphrase already made up and ready to go and continued to shout it out at any opportunity. His Instagram is even full of promotions of "whaboom" and merchandise ready to go for fans.
To be fair, before The Bachelorette, he already had the phrase made up and was using it even before he was accepted as a contestant this season, but Rachel sent Lucas home because there are so many other guys there who are there to meet and hopefully fall in love with Rachel with no hidden agendas. Of course, Lucas never admitted to coming on the show for the attention or camera time, but the catchphrase, mixed with his show business background, equal a recipe for possibly being there for reasons that have nothing to do with Rachel.
So why did Rachel eliminate Lucas on The Bachelorette now rather than the season premiere, when some fans no doubt expected her to? As she said earlier in the episode, she isn't looking to play games this season or keep anyone around who will ultimately waste her time. Lucas did say how he knew Rachel is looking for a physical connection, but needs that humor aspect too, which is where he obviously figured he came in. But whatever good times they may have had together both on and off-screen, the drama surrounding him was probably just too much for Rachel. And who could blame her?
In a way, Lucas earned his spot this far in the season, since he won one of the first big group date challenges and somehow beat out pro wrestler Kenny in a potential dad relay race. But other than that, was there even a connection between Lucas and Rachel? There may have been some interactions that didn't make it to the show and those were what kept him around this long, but honestly, it was never easy to take him seriously.
Rachel likely saw this too, and her sending him home couldn't have come soon enough. The men aren't all expected to get along and form bromances for life, but there was already too much drama with Lucas and Blake E.'s past.
Rachel was faced with DeMario's girlfriend drama in the second episode of the season and she was quick to send him packing, so obviously Rachel's serious about finding love and weeding out the men who aren't right for her. And with Lucas, that's exactly what she did.