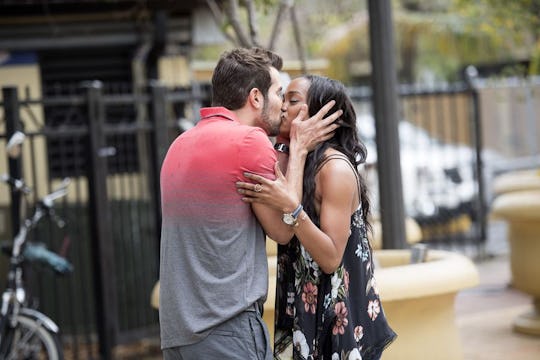 Rodrigo Varela/ABC
Rachel's 'Bachelorette' Pick Was For A Very Important Reason
Say what you will about Bryan and the reservations Peter might have had about him, because for the duration of The Bachelorette Season 13, he and Rachel had one of the most consistent connections of all. She obviously felt that too since, in the end, she chose Bryan over both Peter and Eric. But besides being the best and most frequent kisser in the Bachelor Mansion, why did Rachel pick Bryan on The Bachelorette? They've had an undeniable spark from the beginning and from the premiere episode, their relationship only continued to grow.
There might have been some small issues when they met each other's families during hometown dates this season, but for any couple, those would be the kinds of hurdles to overcome. Not to mention the fact that Bryan has seemed like one of the only contestants whose values and goals were almost directly in line with Rachel's throughout the season. Rachel has said that she wants to get married and start a family soon and while Peter had concerns about an engagement and Eric had never been in love before now, Bryan was always on the same page as Rachel.
Even in his Bachelorette bio, Bryan said that he wants two to three kids. Or, to be more accurate, two boys and a girl. He's been on the same page with Rachel from the get-go, so naturally he would be the one she picked in the end.
Before Bryan proposed to Rachel on The Bachelorette season finale, she'd already spoken about him to the media, though she of course kept his name out of it. "He's more of a hopeless romantic than I am," she revealed to People magazine.
Chances are, that romance mixed with his life goals in general, made for an easy candidate for a husband in Rachel's eyes. In July, Rachel told ABC News that she'd been able to grow closer to her betrothed since filming of The Bachelorette wrapped, even though they had to do things in secret. Even so, it seems like she picked Bryan because he had all of the qualities she was looking for in a husband. "It's been exciting," she said. "Like, I truly feel like I'm living my best life right now. I'm in love, I have a fiancé and I'm watching our love story unfold."
Rachel has already said that the guy she picked on The Bachelorette (who we now know is Bryan) checked off everything on her list of husband must-haves, so obviously Bryan is the whole package for her, even if perhaps the rest of Bachelor Nation doesn't seem to agree.