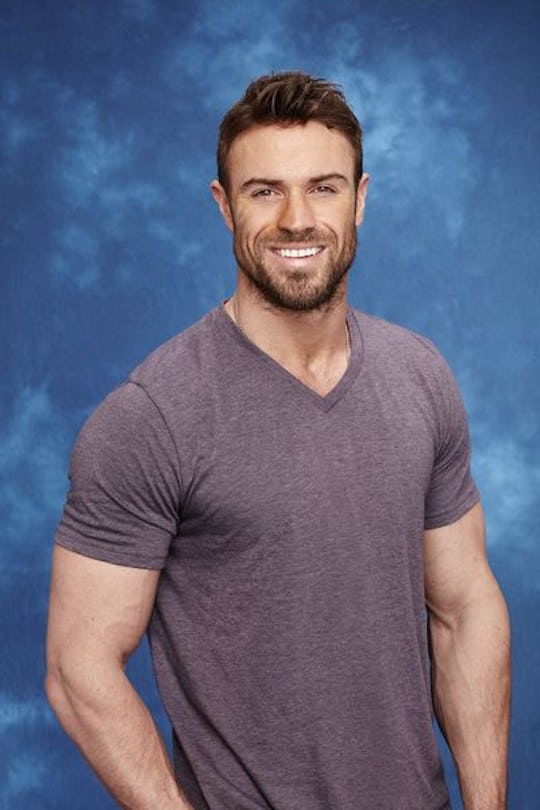 ABC/Craig Sjodin
Why Did Security Watch Chad On 'The Bachelorette'? Some Saw Him As A Threat
It's never a dull moment in The Bachelorette house, and tonight's episode saw a first for the series. Following a tumultuous group date, a security guard was brought in to keep an eye on this season's villain Chad. Seeing an outsider had fans (and even a few contestants) wondering why security watched Chad on The Bachelorette.
During the first two weeks of The Bachelorette, fans have been witnesses to Chad's cocky antics. Whether it's making fun of his fellow contestants or claiming he's too good to be in the house, the luxury real estate agent has quickly became hated by the other competitors and fans alike. But in tonight's episode, he took it too far by threatening the safety of his housemates.
If you watched tonight's episode — or saw the previews, or even skimmed Twitter — you will know that it was a a tense evening. In the group date, Evan attacked Chad by implying that the luxury real estate agent was addicted to steroids. This led to a verbal and physical altercation between the two, which caused Evan to give Jo Jo an ultimatum: get rid of Chad or I leave. Although Jo Jo didn't give into Evan's ultimatum, she did give him a rose, which cause Chad to go off on her and the other guys.
So how did we go from a group of guys to a group of guy plus a security guard? According to people, several Bachelorette contestants hired a security guard out of fear that Chad would "do something rash."
"Last night I felt like Chad could potentially snap, which is a little bit scary, because he sleeps right next to me," contestant Derek said during his confessional. "I could just feel the tension anytime I step into that room and he's in there."
Though the decision to bring in the big guns may have been a bit extreme, it was justify. In tonight's episode, Chad physically acted out on two separate occasions: ripping Evan's shirt off him after the stand up routine and punching a door when finishing his routine. These actions combined with his anger would make anyone a little worried for their safety.
Even Daniel, who Chad has a serious bromance with, told the 28-year-old contestant that he needed to think about his actions more. Daniel even went so far as to compare Chad to Hitler and Trump. If that doesn't whip you into shape, I don't know what will.