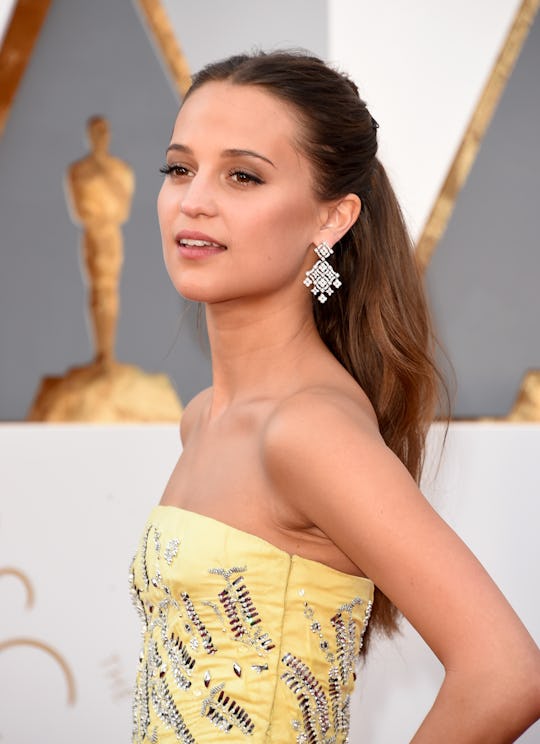 Jason Merritt/Getty Images Entertainment/Getty Images
Why Didn't Alicia Vikander & Michael Fassbender Come To The Oscars Together? They're Keeping It Low Key
The 2016 Academy Awards haven't even started yet, but we can already say that the award for most super-private couple in Hollywood should probably go to Alicia Vikander and Michael Fassbender. On Sunday night, fans saw Alicia Vikander at the Oscars without Michael Fassbender, which might have seemed odd considering how long the two have been dating.
Yep, that's right: Vikander and Fassbender, two of Hollywood's biggest talents this year, are actually a thing. And apparently, the super-talented couple — who, according to Vanity Fair, have been dating since their 2014 movie, The Light Between Oceans — are already kind of notorious for keeping their relationship on the low. Or at least, that's been the prevailing belief, since neither actor has given public confirmation of their relationship, according to Vanity Fair. Instead, the duo have been seen giving some pretty sweet displays of affection at several awards events this season — holding hands at the Golden Globes and teasing us all on the Kiss cam at the BAFTA awards.
That's not to say that they've been totally silent about spending time together. Speaking to Entertainment Tonight just before the Golden Globes, Fassbender said he was "very proud" of Vikander's success this year, and said the pair might try to sneak a few moments together before heading off to different parts of the world for work:
She heads back to Vegas and I head back to London, but hopefully we'll get a minute together. That would be nice. We'll have a few drinks and then we're both out of here early [in the] morning – two in the morning or something.
So, why all the secrecy about their relationship? In an interview with Vogue earlier this year, the Swedish-born actress revealed that she prefers to keep her personal life under wraps, opting instead to maintain a lifestyle where she can "still go camping with my friends or go on the tube or the bus."
Well, despite how exciting it would have been to get real, public confirmation of their relationship, perhaps the power couple felt that an Oscars debut would have simply been poor timing. Sunday was certainly a huge night for both Vikander and Fassbender: Vikander won Best Supporting Actress in a Drama for The Danish Girl, while Fassbender earned a nod from the Academy for a Best Actor award for playing the lead in Steve Jobs.
We might have to wait a while longer for Fassbender and Vikander to publicly announce their relationship, but, on Sunday, it looked like they were both prepared to have a great night. Alicia Vikander appeared on the carpet with both her parents at her side and Fassbender was clearly in good spirits.
Happiness still prevails, you guys.