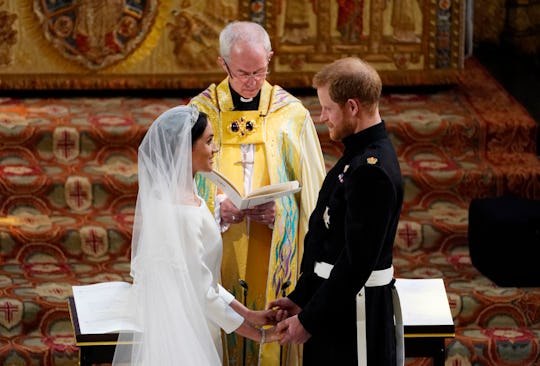 WPA Pool/Getty Images Entertainment/Getty Images
We Need To Talk About That Perfect Cinderella Moment During The Royal Wedding
It seems like nearly every fairy tale wedding ends with a beautiful princess and a handsome prince riding away in a horse-drawn carriage, so naturally Meghan Markle and Prince Harry did just that after their nuptials at St. George's chapel. Just like Princess Diana and Prince Charles, the Duke and Duchess of Cambridge, Prince William and Kate Middleton, and Queen Elizabeth II and Prince Phillip, the newlyweds took their first journey as a married couple through the streets of Windsor to the delight of crowds of adoring fans. But why did Harry and Meghan leave the church in a carriage, exactly? After all, they're a thoroughly modern couple. Why not an Aston Martin or a Bentley?
It all comes down to tradition, basically, like so many royal wedding details. As National Geographic reported, "British royal weddings are often rooted in custom," and many ceremonies "share striking similarities" (particularly those involving close relatives of the queen, like grandson Harry). That's why the Archbishop of Canterbury presided over the ceremony and why Harry wore his military uniform (both long-standing customs); it's also why the royal fanfare was played by the State Trumpeters (on instruments bearing a royal coat of arms) to announce the queen's arrival and and entrance, and why the wedding party is made up entirely of young children. No matter how contemporary Meghan and Harry's romance may be, royals are royals — and they're certainly not going to thumb their noses at centuries of tradition, especially when those traditions mean so much to so many people. (Plus, what bride wouldn't want to experience this real-life Cinderella moment?)
The couple did have some say in the matter, of course, including which carriage to use. And they definitely selected a very stylish (and again, traditional) vehicle for their first ride as man and wife: A gilded Ascot Landau from the Royal Mews, according to People.
The palace even released a statement on behalf of the pair ahead of the wedding about their choice of transportation, which read:
"Prince Harry and Ms. Markle are very much looking forward to this short journey which they hope will allow them to express their gratitude for everyone who has gathered together in Windsor to enjoy the atmosphere of this special day."
Pretty sweet wheels! Naturally, given the carriage's open top and Britain's reputation for being a rather rainy place, there was a backup coach all lined up just in case the weather gods weren't in a particularly generous mood. As People explained, if the day of the wedding turned out to be a rainy one, the couple would have ridden in the Scottish State Coach. Originally built in 1830, a new top was made for the coach in 1969 featuring glass windows and two transparent panels in the roof (so Harry and Meghan still would have been able to wave and smile at spectators).
Honestly, the rainy day option looks almost more fairy tale appropriate than the first carriage choice! (Though the open top definitely allowed for better photo opportunities.)
And in case you were wondering about the literal horsepower responsible for giving Meghan and Harry a lift, the Ascot Landau was pulled by Windsor Grey horses, a team which adorably included a father-and-son duo named Storm and Tyrone. Additionally, the couple was accompanied by a traveling Escort of the Household Cavalry Regiment (the Prince's army regiment).
As royal family fans likely remember, Prince William and Kate Middleton also rode in an open Landau carriage after their 2011 wedding vows, according to Us Weekly, which had been built for King Edward VII and also served as transportation for Prince Charles and Princess Diana, as well as Prince Andrew and Sarah Ferguson (the Duke and Duchess of York).
Simply stunning! Those royals sure do know how to make an exit. The question is, did Kate and Will give Meghan and Harry tips on synchronized waving before the ceremony? Either way, the new royal couple definitely seemed to know what they were doing!