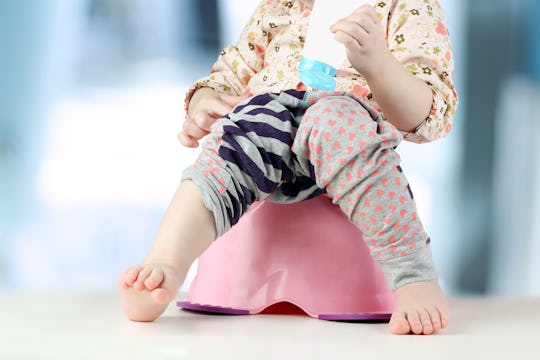 Saklakova/Fotolia
5 Reasons Why Toddlers Reject Potty Training (It's Not To Make You Miserable)
Potty training is one of those things people who aren't parents tend not to dwell on. It's also pretty easy to forget about once your children are older. However, for that period of parenting, it's all you can think about. If you're dealing with a potty power struggle in your home, you might be wondering what it is that is stopping the flow of progress, so to speak. Why do toddlers refuse to use the potty? I mean really, you're ready to ditch the diapers for good and it'd be nice if your child would get on board.
According to the American Academy of Pediatrics (AAP), potty training is not recommended before age 2 and children might not be ready for many months after that. It will take time and a lot of observation to determine if your child is ready to begin toilet training. They note that it is not uncommon for toddlers to reject potty training out of hand for any number of reasons. However, they suggest having your baby evaluated by their pediatrician before you begin the process of potty training to make sure that there isn't anything overtly worrisome that would preclude your child from training.
It's not going to be fun or simple, and if your child is rejecting the training, that just adds another layer of stress. If you notice any of these five reasons why toddlers reject potty training, you might need to step back and reevaluate.