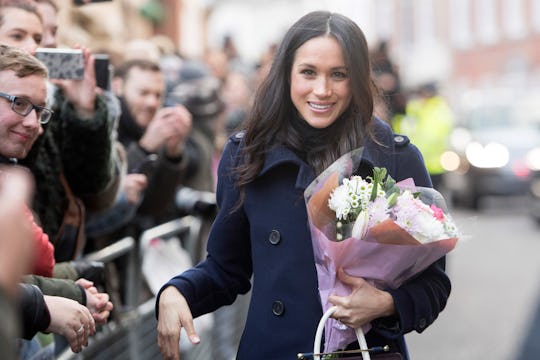 WPA Pool/Getty Images Entertainment/Getty Images
Why Doesn't Meghan Markle Have A Maid Of Honor? It's One Tradition She Chose To Skip
It's clearly a huge understatement to say that Meghan Markle's wedding to Prince Harry isn't your average wedding, but even if she weren't a famous actress marrying a British prince, her wedding would still look pretty different from what most American brides plan for their big days. For one, she's opted for the thoroughly British practice of choosing children as her attendants over her adult friends. But even Kate Middleton had her sister, Pippa, there to help straighten out her train at her 2011 wedding, so why doesn't Meghan Markle have a maid of honor? It's a pretty common custom for brides to have at least one adult stand up for them, but Kensington Palace confirmed that Markle hadn't actually chosen anyone to fill the maid of honor role, according to The Telegraph, simply because she didn't feel comfortable choosing between her closest friends.
As with pretty much all details surrounding the royal wedding, news outlets and royal watchers alike had been speculating for months which of Markle's BFFs might get the opportunity to walk down the aisle at the year's most highly-anticipated wedding (Markle's friend and stylist, Jessica Mulroney, was the front-runner). But although the palace did share ahead of time that Prince Harry had asked his brother, Prince William, to serve as his best man, a spokesperson told The Telegraph that Markle ultimately decided against having a maid of honor. That doesn't necessarily mean she's left anyone out though: Kensington Palace said that all of Markle's closest friends "have been actively involved in helping her prepare for the day," and that they were there to support her in the days leading up to the wedding as well.
While that may have been a disappointment for any of her friends hoping for their own Pippa Middleton moment — Kate's sister famously turned heads in her white dress, even though she later told TODAY that the actual intention was for her to "just to blend in with [Kate's] train," according to Vogue — Markle appears to have chosen to honor them in a different way. On Wednesday, Kensington Palace released the names of the couple's 10-person bridal party, revealing that Markle chose to include Mulroney's 4-year-old daughter, Ivy, as well as the two young daughters of her friend, Benita Litt, Remi and Rylan.
Unsurprisingly, Markle and Prince Harry also opted to include Prince George and Princess Charlotte as page boy and bridesmaid — although that technically left Kate as the only member of the Cambridges (besides newborn Prince Louis, of course), without an official role. Yet even if Markle had wanted to pick her soon-to-be sister-in-law as her maid of honor, royal protocol likely would have prevented it from happening: British etiquette expert, William Hanson, told Express in April that "It's unbecoming for a member of the royal family to walk behind a commoner," which may have also been part of the reason why Kate did not serve as Pippa's maid of honor when she wed James Matthews in 2017.
In total, Markle and Prince Harry have 10 children under the age of 8 in their bridal party, and though it makes sense that she wouldn't have wanted to cause a rift in her friendship group by picking a MOH, logistically it seems like having an adult in the mix could have been a good idea. At Kate's wedding in 2011, after all, it was Pippa who corralled the four young bridesmaids, and held the hands of the youngest girls as they walked down the long Westminster Abbey aisle, and at Princess Diana's wedding in 1981, Princess Margaret's daughter, Lady Sarah Armstrong-Jones, served as maid of honor alongside five young bridesmaids, who ranged in age from 5 to 13.
At the same time, it seems safe to say that Markle and Prince Harry's bridesmaids and page boys would have been very well-prepared for their big moment, and that someone would have been in charge of keeping them in line until it was time for the ceremony to begin. And, of course, the fact that Markle felt uneasy about choosing a maid of honor really just proves that she has a number of wonderful, supportive friends who mean a lot to her. And she's surely feeling their love, even if they weren't standing beside her at the altar.