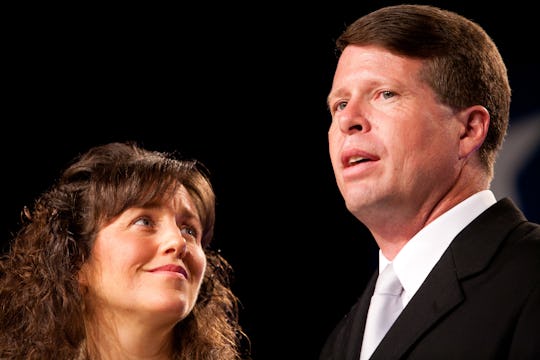 Brendan Hoffman/Getty Images Entertainment/Getty Images
So This Is Why The Duggars & Their Kids "Don't Do The Halloween Thing"
It's tough to keep up with all of the rules the Duggar family from TLC's Counting On has to follow. I mean, they give the British royal family a real run for the money and they don't even offer wedding tiaras as an incentive or anything. They frown on women wearing pants, don't believe in sex before marriage (let alone kissing), and perhaps most distressing to me, personally, the kids aren't allowed to go trick-or-treating. I've always wondered why the Duggars don't celebrate Halloween, because to many, it's the best season of the year.
As it turns out, family matriarch Michelle Duggar explained why in a 2011 blog post they're not into the spooky holiday. And this probably won't surprise Counting On fans and those who follow the Duggar family, but the reason behind their refusal to celebrate Halloween is all about their religious beliefs. As Michelle explained in the blog post, the family tends to focus more on the fall harvest as a way to celebrate her "favorite season."
"While we do go to pumpkin patches and corn mazes, we don't do the Halloween thing," Michelle wrote, as the Christian Post reported. "From the beginning of our marriage we just kind of felt like we didn't want to celebrate that holiday. But we enjoy the harvest celebration. Our church fellowship has had different celebrations through the years that we've been a part of, ones where the children can play games and receive candy and toys and do all kinds of fun things, like a cake walk."
Michelle wrote that she's apparently also worried about the possible "pranks and things" that could go on if her children were to celebrate Halloween.
It looks as though the younger generation is following their parents' lead when it comes to raising their kids in a Halloween-free environment. Jessa Seewald and Joy-Anna Forsyth have both shared sweet fall harvest-type photos of their children, but don't expect to see any costumes. In 2017, Jessa shared a cute photo of her youngest son Henry sitting among some autumn leaves. And more recently, Jinger Vuolo shared a photo of her daughter Felicity sitting with a big ol' pumpkin.
While it might not have been for Halloween, it's worth noting that Jill and Derrick Dillard did dress up as pirates for donuts back in September 2015, though it's not clear why.
There is one rebel member of the Duggar family who has been known to celebrate Halloween in the past by dressing up as a fictional sex worker, in fact. Amy Duggar, cousin to the Counting On Duggars, made waves back in 2016 when she dressed as Julia Roberts' character from Pretty Woman, as She Knows reported at the time.
I wonder if her more conservative cousins were a little jealous. I also wonder how the new moms in particular resist the pull of those adorable children's Halloween costumes. If I were a betting woman, I think Jinger might be the first to bend the rules and dress her daughter Felicity in a cute costume one day. Maybe.
This article was originally published on