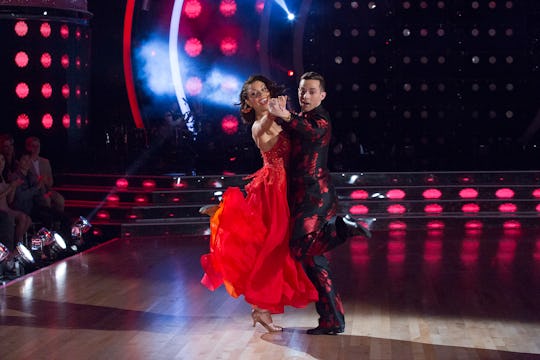 Kelsey McNeal/ABC
'DWTS' Season 26 Is Shorter For A Few Important Reasons
For those of us who look forward to each new season of Dancing With the Stars, it was a big of a shock to realize that we wouldn't be able to hunker down with snacks and scoring cards every Monday night for several long weeks this time around. Instead, the all-athletes season was always going to be shorter, but now that it's already coming to an end, it makes you wonder why DWTS Season 26 is so short.
Part of the blame can probably be placed with ABC's winter/spring lineup. Because the network decided to premiere the revamped American Idol in March, it meant that the course of the show's returning season would run into the usual premiere date of DWTS. And to make matters worse, with The Bachelorette Season 14 premiering at the end of May, it meant that DWTS wouldn't be able to span more than a few weeks even though the season had to premiere later than usual.
However it has to be said that DWTS might also be shorter because of the contestants themselves. Pro DWTS dancer Keo Motsepe told Closer Weekly that the shorter season was a way to find out if an all-athletes season could even work on the show. "I think the athletes we wanted to have, they can only do so much," he said ahead of the Season 26 premiere. "I think the show is also trying to see if the athletes season is going to work. They didn't want to do a whole season and have people be like, 'Only athletes. Are they gonna be good?' You never know. I think it's gonna do amazing. It's trying something different and new."
So far, the season of only athlete contestants has been nothing short of amazing. All of the contestants have remained strong in their routines and learning the different new dances. Host Tom Bergeron recently spoke to Access Live about DWTS Season 26 and how the double eliminations and shorter season has intensified things this time around. "In the context of doing the show, you don't get the sense of who these people are or as we say in the reality biz — 'the journey.' It's pretty much a ballroom bloodbath," he said. And really, that's kind of what it is, since each week has seen more than one couple eliminated and as the cast narrows down even further, it's going to get more shocking to see your favorite dancers voted off.
Having a shorter season of DWTS has also meant that there have been some key pro dancers absent for the season and that not one but two couples are getting voted off each week. This, of course, makes it easier to narrow things down, come the season finale on May 21, but once more, it ups the ante on the season as a whole. Luckily, most of the contestants are no strangers to performing under pressure and pushing their bodies to the limit so having a jam-packed season of just four episodes probably hasn't been all that grueling compared to some of their athletic routines.
And while most of the contestants haven't had much, if any, professional dance experience prior to going on the show, they've all seemed to rise to the occasion. From a fan standpoint, it's not the most awesome thing in the world to have just four episodes compared to the usual 10-episode season. But if this really was the network's way of testing the waters, then hopefully by the time the winter/spring season returns in 2019 after the fall 2018 season, there will be a way to draw out the season a little more.