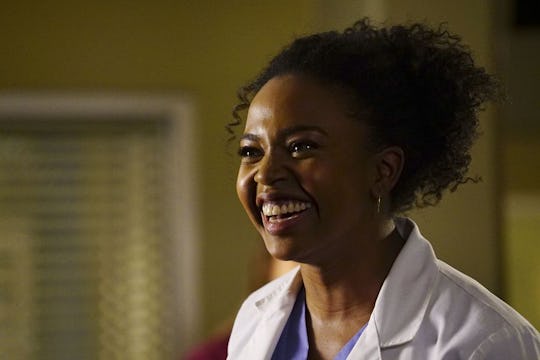 Richard Cartwright/ABC
An Edwards Exit May Be Imminent On 'Grey's Anatomy'
Although it hasn't yet been confirmed by the actress herself, the rumors flying around about Edwards' departure from Grey Sloan Memorial Hospital have been hard to ignore with the imminent warning signs. And since more news outlets are reporting that Season 13 will indeed be her last (at least in a starring capacity), why is Edwards leaving Grey's Anatomy? TVLine originally reported the news that Jerrika Hinton will no longer be a series regular on the show starting in Season 14. And considering the dire situation Edwards has found herself in, many fans are worried her removal from the show will result in her character's death.
Like I said, Hinton herself hasn't said anything either way about her reported departure or why she's choosing to step down, but in real life the actress has been given some opportunities for her career to grow a little more and being a main cast member of a popular network TV show might not afford her the availability to do that on a regular basis. But since TVLine did say that she won't be a regular cast member anymore (meaning potentially not off the show entirely), that also leaves the door open for Edwards' return to Grey's Anatomy in the future, should Hinton want to come back.
Hinton recently signed on to HBO's new drama Here, Now, so the actress's motivation for leaving Grey's Anatomy is likely her desire to want to branch out and work on other projects.
But whether or not Edwards lives or dies is still up in the air and stressing us all out at this point. On the one hand, it will be welcome drama and heartbreak that fans have come to expect and even love from creator Shonda Rhimes, but on the other hand, losing Edwards in a blaze of fire without any closure for her character's career would be devastating and make it impossible for her to return down the line. But as far as Edwards goes, they've definitely done a good job of driving her away.
Recently, the character was suspended for performing life-saving surgery on a little boy whose family had religious objections to it and when she came back, she was attacked by a patient who turned out to be an attempted rapist, unbeknownst to her. If Hinton is leaving Grey's Anatomy to work on other projects, then Edwards will be forced to follow suit — let's just hope it won't be in the form of a body bag. Nothing is set in stone, of course, but Edwards' departure feels more likely than ever. It's just a matter of what form her exit will take.
Hinton has a burgeoning career that will be taking her away from the show, meaning that even though she hasn't admitted to her departure, she has reason enough to be moving on. I only hope it leaves room for her possible return from time to time.