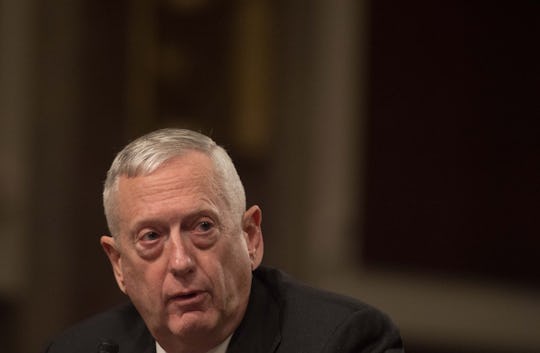 NICHOLAS KAMM/AFP/Getty Images
Why Is James Mattis' Nickname "Mad Dog"? He's An Influential Former Military Leader
Donald Trump has invited criticism in his decision to embark on a "thank you tour" across the midwest when he arguably should be devoting his efforts to attending intelligence briefings and building his Cabinet. At one such rally in Cincinnati Thursday, though, the president-elect appeared to merge the two, announcing to the crowd at he plans to nominate retired Marine Gen. James Mattis as his secretary of defense. The 66-year-old Mattis is one of the most influential military leaders of his generation, according to The Washington Post, and he has the nickname to prove it. Even a cursory review of his more than 40-year history with the armed forces shows why James Mattis' nickname is "Mad Dog," and judging by his unflinching comments about foreign relations and combat, he's more than OK with it.
"We are going to appoint 'Mad Dog' Mattis as our secretary of defense," Trump said at the rally, according to NBC News, confirming rumors that the retired military leader would be his pick. "But we're not announcing it 'til Monday, so don't tell anyone — Mad Dog. He's great. He is great."
Although Mattis does potentially ascend to the Cabinet-level position with a touch of controversy himself, the caveat holding him back from a Senate confirmation is this: Congress would have to vote to bypass a law that bars anyone who was served on active duty in the past seven years from taking the position. Mattis retired in 2013.
But in the years before that, Mattis defined his reputation as a as a blunt strategist, concerned about facing "political Islam" as a chief security issue, according to the Post, and who considered the Iranian regime to be "the single most enduring threat to stability and peace in the Middle East." He also led the 1st Marine Division into Baghdad in 2003, and is known for being a bit less aggressive on one specific issue than his new boss: Shortly after Trump's election, Mattis reportedly told the new president-elect that he did not find torturing enemies for information to be useful, as he believed that building a rapport and a relationship with them was more effective. "Give me a pack of cigarettes and a couple of beers, and I'll do better," Trump recalled Mattis telling him during an interview with The New York Times.
In addition to his many, many accomplishments in the military, Mattis proved that his nickname was well-deserved and stirred minor consternation at a 2005 panel in San Diego, when he made the types of admission about his feelings toward fighting that most know to keep to themselves, NBC News reported:
Actually it's quite fun to fight them, you know. It's a hell of a hoot. It's fun to shoot some people. I'll be right up there with you. I like brawling.
Though Mattis at the time declined several requests for comment from numerous outlets, his colleague, then-Marine commandant Gen. Michael Hagee defended Mattis' words. "While I understand that some people may take issue with the comments made by him, I also know he intended to reflect the unfortunate and harsh realities of war," Hagee said. "Lt. Gen. Mattis often speaks with a great deal of candor, [though I] agree he should have chosen his words more carefully."
Tough and shrewd, Mattis has also earned the nickname "Warrior Monk," which directs attention to another aspect of his personality and outlook, as NPR's Rachel Martin reported in 2010:
Mattis, a bachelor whom friends call the "warrior monk" for his devotion to the military, is known to carry books of Roman philosophy with him on every combat mission. He has a personal library of 6,000 books that he insists on taking with him from post to post. But beyond the books and bravado is a general who can connect with his troops.
From leading leading a task force in southern Afghanistan in 2001, to eventually overseeing all American forces in the Middle East, James "Mad Dog" Mattis surely seems to have the experience necessary for the job.