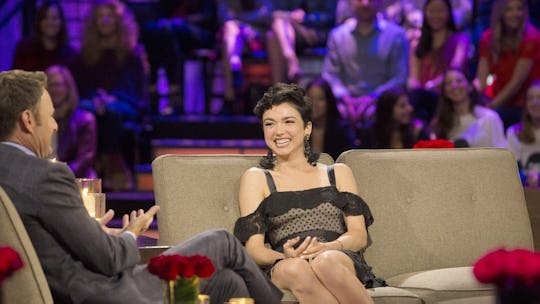 Paul Hebert/ABC
Bekah M.'s Reason For Not Appearing On 'Bachelor In Paradise' Makes Total Sense
The best thing about the end of summer for Bachelor fans is the beginning of Bachelor in Paradise. We get to watch all of our favorite Bachelor and Bachelorette contestants fall for each other in a setting a lot less organized (and a lot less formal) than of the other shows. But one fan favorite, Bekah Martinez, will not be gracing the small screen with her big presence this season. Fans are wondering why Bekah M. isn't on Bachelor in Paradise and the reason is actually very simple.
She met someone new outside of the franchise. And instead of potentially messing things up and going on the show for the fun of it, she opted to back out and try things with her new real life beau. It's just another classy move from the contestant who stood out on Arie Luyendyk Jr.'s season of The Bachelor both during and after it aired. Since she was — and still is — such a fan favorite, though, it's not surprising that she had originally planned to go on Bachelor in Paradise. "I was asked to go on the show and, initially, I was planning on it," she told PureWow. "But I met somebody in February." The somebody she was referring to is a guy named Grayston Leonard.
Bekah M. explained that she didn't want to risk the relationship she had at home by going on the show, especially if things didn't pan out with anyone on Paradise. Which is a pretty valid concern, if you ask me.
"At first we decided to take our relationship slow because I didn't know if I was going to go on Paradise or not and I wasn't really sure what I wanted. I wasn't sure if I wanted to miss out on that opportunity," she said. "I was kind of like, 'I don't want to be dating this guy for two months and then decide not to go on Paradise and have total FOMO and wish that I had done it.' But as it got closer to [filming] I just started realizing that it wasn't worth it for me to put myself in that environment where I could possibly jeopardize what I had with Grayston." Once again, Bekah M. has proven herself to be one of the more mature contestants the franchise has seen yet.
Bekah M. also told PureWow that going on Paradise with a boyfriend back home would have been "shady" of her and to be real, that's pretty accurate. So instead of risking it to go on the show and experience Bachelor in Paradise for the first time, Bekah M. stayed home and continued her relationship with her boyfriend.
As recently as the beginning of August, Bekah M. posted a new photo of herself and her boyfriend on Instagram, so I'd say that skipping out on Paradise was the right move for her. She captioned the photo with: "Get yourself a man who will listen to you ramble and rant about social justice issues all day long. I love you Gray." I would have loved to see Bekah M. stir the pot on Paradise this season, but seeing her in what looks like a happy and healthy relationship is even better.
Bekah M. made waves on Arie's season for not only her age as the youngest contestant of the season and for having a dope pixie haircut, but also for being outspoken and one of the realest contestants of the season. For that reason alone, it would have once again been refreshing to see her on TV. But for right now, Bekah M. seems happy living her life post-Bachelor and without tons of cameras around to catch every minute on film.