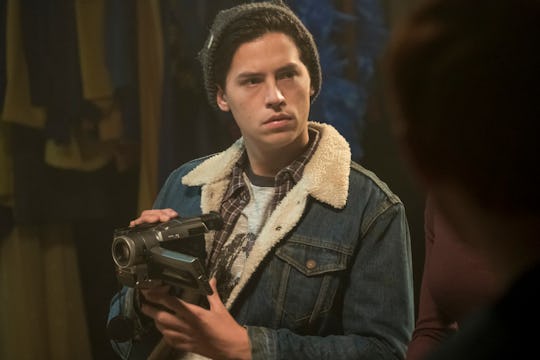 Katie Yu/The CW
Don't Expect Jughead To Be Singing In The 'Riverdale' Musical Episode
Fans of Riverdale might remember Cole Sprouse best for his Disney Channel role on The Suite Life of Zack & Cody, on which he starred with his twin brother. And a lot of the time, stars tend to be double or even triple threats with natural given singing talent. For Sprouse, that could be the case, but right now, fans are not going to be seeing him belt out any ballads or even musical one-liners as Jughead. So why isn't Cole Sprouse singing in the Riverdale musical? Jughead will actually be playing a different role, and one that doesn't require any musical talent that he may or may not have.
Back in January, Variety reported that instead of singing along with the majority of the show's case, Jughead would take on the role of documentarian while creating a film about the making of the Carrie musical within the episode. As far as the character of Jughead goes, it definitely seems more on par with who he is. When Sprouse spoke to E! News a year before the musical episode was set to premiere, he joked that a musical episode was the one thing he'd hoped to not have to do within the show. "I don't really mind the singing if its in character," Sprouse later told the news outlet. "But then the question becomes, 'is this the kind of character that would do that?' Is Jughead the kind of character that would take center stage in front of a town that already feels a little strange about him and sing?" Fair enough.
Riverdale showrunner and creator Roberto Aguirre-Sacasa revealed back in February during a screening of the show that the plan was to keep Jughead out of the spotlight, as his character would prefer anyway. But, Aguirre-Sacasa said the role he'd been given for the duration of the episode is still meant to keep him in the center of the action. As someone creating a documentary of the high school musical, which is bound to mix in much more sinister tones than your standard high school production would, Jughead is really the only option. Plus, it will enable him to still be a big part of the episode.
The Carrie musical on Riverdale is going to be produced by the Lodge family of course, because apparently multi-billion dollar companies always take an interest in the arts at small town schools. But that being the case, it makes even more sense that Jughead would want to steer clear of the show in a performance capacity. He's been more against Lodge Industries and the establishment in general far more than his fellow Serpents, and I'm honestly surprised he's not going to be protesting the musical because of the family and money behind it.
Like Sprouse said of his Riverdale character, Jughead already has a tumultuous relationship with a lot of the higher ups of the town and some of the residents themselves. It wouldn't really make sense to put him on a brightly lit stage and make him vulnerable in front of a town he doesn't seem to want be a part of half the time. Apparently, it has nothing to do with music itself, though, as Sprouse also told E! News that if another role comes along that calls for singing and it's in character to do so, then he'd be all for it.
In this case, however, Sprouse and even the writers of the show realized that it just wouldn't be believable for Jughead to sing with the rest of his classmates. I think we can all agree that he's not exactly a current day High School Musical Zac Efron, but I also think that's part of the reason we all love our Juggy so much.
Check out Romper's new video series, Romper's Doula Diaries:
Watch full episodes of Romper's Doula Diaries on Facebook Watch.