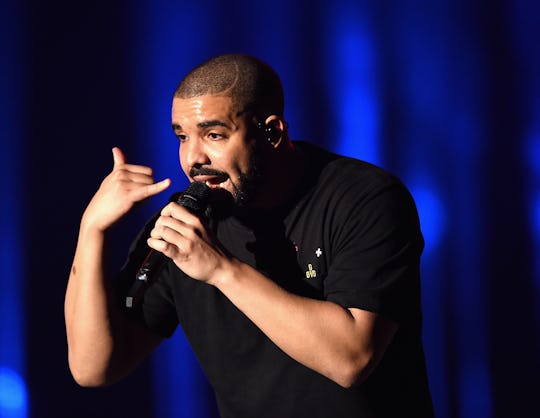 Kevin Winter/Getty Images Entertainment/Getty Images
Find Out Why Drake's Skipping The 2017 Grammys
As the rest of us get our preparations in order for the 2017 Grammys (the finger foods, the friends, the stretchy pants to fit in more finger foods), some of the biggest stars in music will be making other plans. A night of bowling, maybe? Netflix and chill? I'm not exactly sure at this point, but if you're wondering why Drake isn't at the 2017 Grammys, he's one of the few stars who actually has some concrete plans for the night and won't be in the audience or on stage.
Drake is set to perform in Manchester, England on Sunday — the same night as the Grammys air live — and won't be able to make the show, which is a real shame, considering he has been nominated for a whopping eight awards this year, including Album of the Year for Views. In the past, Drake has been nominated for 27 Grammys and only won once; in 2013, he won Best Rap Album for Take Care, which is making me a little sad. After being nominated so many times and only winning once, what if this is the year Drake wins and he's not there to kiss his trophy and do a little victory dance or whatever? While most of the conversation surrounding Best Album of the Year seems to be focused on a Bey vs. Adele showdown, Drake could shock us all and take it. But he'll be busy doing his thing in England while we all wait with baited breath. Sigh.
Some Drake fans have speculated that this year could include a different awkward showdown — one the rapper from Toronto might actually want to miss: his ex, Rihanna, might run into his (rumored) slightly fresher ex-flame Jennifer Lopez at the 59th Annual Grammys. According to the ever-important seating schedule, Lopez and Rihanna will both be seated in the front row for the Grammys. Rihanna, because she's been nominated for seven Grammys, and J.Lo, because she's J.Lo.
While neither Drake nor Lopez have confirmed their recent split, it could be uncomfortable for the two women. And you can be sure the cameras will be rolling to catch every awkward moment. So maybe... yeah, maybe Drake's absence isn't the worst thing in the world, right?
Other big-name music stars won't be at the Grammys this year for different reasons; according to TMZ, Justin Bieber is reportedly boycotting the awards show because the show is no longer "relevant or representative, especially when it comes to young singers." Kanye West, who might need a bit of a break after his whirlwind, stressful year in 2016, won't be at the awards show either because he's in New York City prepping for Yeezy Season 5 at New York Fashion Week.
But don't worry; we still have Queen Bey, Lady Gaga, Adele, John Legend, and loads more big names to keep us entertained as we eat pizza in our pajamas at home in front of the TV. It's all good.