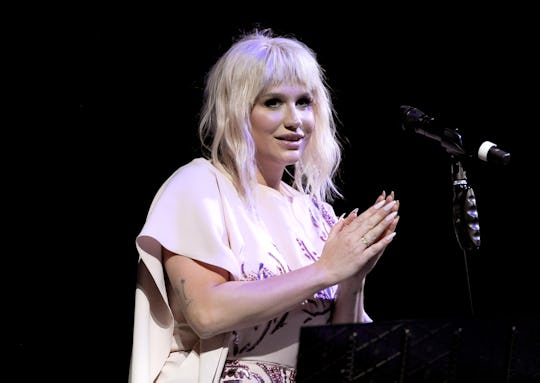 Angela Weiss/Getty Images Entertainment/Getty Images
Why Isn't Kesha Performing At The Billboard Music Awards? She's No Longer Allowed To Sing
Just when it seemed like things were looking up for Kesha, there's more bad news. Kesha isn't performing at the Billboard Music Awards anymore, reportedly because Dr. Luke's record label, Kemosabe Records, won't allow it. So what's changed? Kesha was allowed to record "True Colors" with Zedd and perform the song at Coachella. She was allowed to cover Lady Gaga's "Til It Happens To You" at the Humane Society Gala just a few days ago. So what's the big deal about her performance at the Billboard Music Awards? Nobody's offered an official explanation as of yet, but the timing is suspicious.
On May 11, TMZ broke the story that Kesha would be performing at the Billboard Music Awards and also claimed that its sources said it would be a "statement performance" that would "make direct references to her ongoing legal battle with Dr. Luke ... and might even include images of him." A quick primer on the "legal battle" TMZ referred to: Kesha has accused her former producer, Lukasz "Dr. Luke" Gottwald, of emotionally, physically, and sexually abusing her for over a decade. Dr. Luke maintains that these allegations are false. Kesha is still under contract with Dr. Luke, his label, and Sony, and, as such, is unable to perform or record music without explicit permission from the record label. Luke's attorneys have said that Kesha's claims that she needs his permission or contact with him in order to record new music or perform are false.
After TMZ's story, Kesha's performance was suddenly canceled. Dick Clark productions issued the following statement to Complex: "Kesha accepted an invitation to perform on the show and she received written approval from Dr. Luke's record label, Kemosabe Records. Kemosabe subsequently rescinded its approval following a media report on Wednesday May 11 regarding Kesha's appearance on the BBMAs." Some say that the statement indicates that the TMZ story led to the cancellation of Kesha's performance, though no one has confirmed either that Kesha's performance would mention Dr. Luke or that it was canceled for any reason related to him. Neither Kesha nor Dr. Luke's attorneys have responded to Romper's request for comment.
Kesha posted her explanation on Facebook on Tuesday night:
I was very excited to perform a tribute to Bob Dylan by singing a cover of "It ain't me, babe" at the Billboard awards this year. I'm very sad and sorry to say I won't be allowed to do this. I just wanted to make very clear that this performance was about me honoring one of my favorite songwriters of all time and has never had anything at all to do with Dr. Luke. I was never going to use a picture of him, speak of him or allude to my legal situation in any way. I simply wanted to sing a song I love to honor an artist I have always looked up to. thank u all for the continued support.
It's curious that Kesha wouldn't be allowed to perform a song as innocuous as "It Ain't Me, Babe," especially after she was allowed to perform "Til It Happens To You" (which is explicitly about abuse), and even go so far as to dedicate her performance to "every man, woman, child and animal that has ever been abused." It's unclear what happened exactly, but hopefully the label or Luke's attorneys will speak out before the awards.