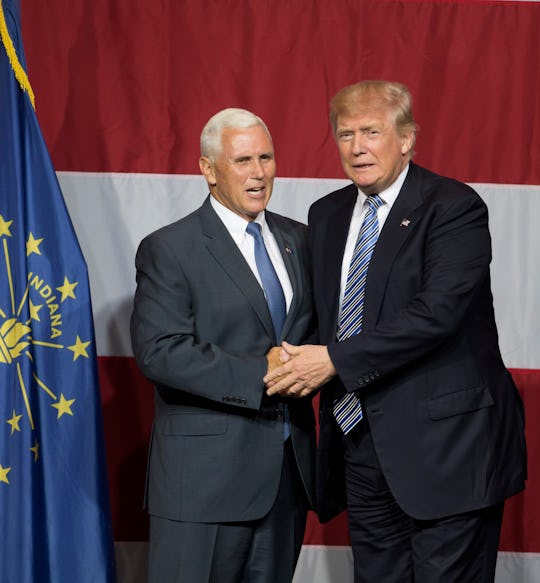 TASOS KATOPODIS/AFP/Getty Images
Why Isn't Mike Pence On The RNC Speakers List? There Could Be One Important Reason
The Republican National Convention is less than a week away, and the Republican National Committee just released a shortlist of its speakers. The list includes presumptive GOP nominee Donald Trump's sons, Eric, Donald Jr., and daughters Ivanka and Tiffany, as well as wife Melania Trump to name a few, but there is one surprising name that is missing from the list. Voters are wondering why Indiana Gov. Mike Pence isn't on the RNC Speakers list, especially given Trump's recent visit to Pence's Indiana home, where he reportedly discussed a potential vice presidential candidacy. But there could be a very important reason behind the omission.
UPDATE: Trump confirmed Pence as his vice presidential running mate in a tweet Friday morning and said he would host a news conference on Saturday.
According to Trump's communication manager Jason Miller, the list is only partial at this point. And while two of Trump's potential running mates are on the list of speakers — New Jersey Gov. Chris Christie and former Speaker of the House Newt Gingrich — Pence, who many political pundits are calling Trump's unofficial running mate, has not been slotted to speak. One of the possible reasons could be that Trump has not officially named Pence his running mate at this point, and the Republican National Committee will not add the vice presidential candidate to the speakers list until they have officially been announced (which means things aren't looking so great for Christie or Gingrich).
Trump announced through social media that he would be officially announcing his pick for Vice President on Friday morning at 11 a.m. ET in Manhattan, although following a tragic crash at a Bastille Day celebration in Nice, France (which killed at least 77), Trump noted he would likely postpone the announcement.
While Pence might have been a surprising choice to some voters, who could have been expecting a more radical choice like Gingrich (and there was even talk of Trump choosing daughter Ivanka as his running mate), a source close to the campaign has said that Pence makes sense for Trump (also: there is your campaign slogan, you're welcome). The source told Roll Call that Trump appreciates Pence's "calm demeanor, Capitol Hill experience, and their general chemistry."
While the partial list of speakers does seem to be rather light on politicians and heavy in the "other" categories, there are a few notable absences. Ohio Gov. John Kasich, a former opponent of Trump's (and the governor of the state where the convention will be held) is not on the list, nor are any of the last four Republican presidential candidates. Another name not on the list; former Alaska Gov. Sarah Palin. The theme of this year's Republican National Convention is "Make America Great Again" and the list of speakers is representative of that theme, according to Trump spokesman Jason Miller.
This impressive lineup of veterans, political outsiders, faith leaders and those who know Donald Trump the best — his family and longtime friends — represent a cross-section of real people facing the same challenges as every American household.