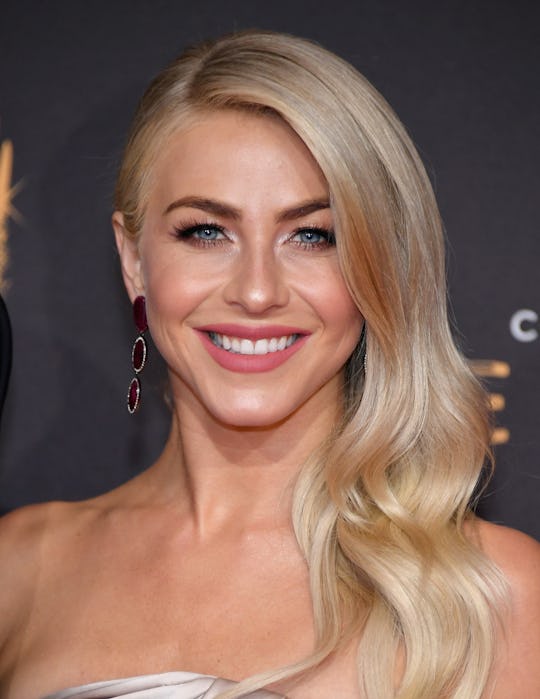 Neilson Barnard/Getty Images Entertainment/Getty Images
Why Julianne Hough Needs To Return To 'Dancing With The Stars' ASAP
As any Dancing With the Stars fan knows, there hasn't always been four judges in charge of scoring the contestants. Once upon a time, Julianne Hough was a pro dancer on the show and during DWTS Season 19 she was given a permanent seat at the judges' table. Although the show survived on just three judges before, it's difficult to ignore her absence, which is one of the reasons why Julianne Hough needs to return to Dancing With the Stars, since it feels downright strange not to have her there, imparting her dance wisdom and giving the contestants the kind of constructive criticism they need.
Of course the other three judges, Len Goodman, Carrie Ann Inaba, and Bruno Tonioli have served as fair judges for the show's entirety, but like them, Hough has added something important these past several seasons. There was another time when the DWTS judge took a break from the show for Season 22, but since she came back the following season, no one could have really predicted that Hough would step down once again for Season 25.
When she took a break from Season 22, she told People that she fully intended to return but that she had other career obligations that she'd been working on. "I will miss being on the panel for Season 22, but have a lot of exciting stuff coming that I look forward to sharing," she told People at the time. "The pro dancers, producers and crew at DWTS will always be my family." For this recent departure from the dance competition show, Hough has been pretty quiet in regards to why and when she might be back, but her absence has definitely made it clear that Hough needs to return and soon.
The Dancers Miss Her
DWTS pro dancer Sharna Burgess recently told Entertainment Tonight that she and the other pros on DWTS miss Hough's friendly face on the judges' panel. "I miss Jules' energy up there," the dancer said, "Her knowledge on ballroom dance and the way she would critique the information she would give. I think she was such a wonderful part of our panel, and she is seriously missed by all of us."
It's definitely hard to ignore that, despite the knowledge and positivity among the current judges, Hough lends a different kind of approach while on the panel. "Even if Jules was to give a six, she always had something [nice] to say about it," Burgess added.
Her Constructive Criticism Is On Point
It's literally the job of each judge on DWTS to point out the contestants' flaws and give them advice on how to improve on them. But when Hough does that, she also does it in the form of a compliment sandwich. She might tell a contestant that they need to be steadier on their feet, but she also quickly follows that up with what they did do right for their particular routine.
Even during the first dances of the season, Hough's positivity as a judge would shine through and she seems like she always has something to be enthusiastic about, regardless of which contestant has just finished dancing. And to the same tune, she's not afraid to give criticisms as a judge, but it's always been in a way that helps contestants rather than bring them down after their performance.
She Has A Point Of View Unlike The Other Judges'
Since Hough was a pro dancer herself from Season 4-8 on DWTS, she's always had a slight advantage over the other judges, in that she knows what it's like to not only train contestants, somewith no dance experience at all, but to also be judged. That being said, Hough's point of view as a judge on DWTS is one that's unique from Goodman's sometimes too critical comments or Tonioli's high enthusiasm.
Having been in the pros' shoes for a few seasons herself, before ever joining the judges' panel on DWTS, means that Hough knows what to say without insulting anyone, but while still getting her point across to the contestants and pros to help them perform to the best of their ability. It's unclear if Hough will return to DWTS for Season 26, but right now, the show is definitely lacking without her there.
Watch Romper's new video series, Romper's Doula Diaries:
Check out the entire Romper's Doula Diaries series and other videos on Facebook and the Bustle app across Apple TV, Roku, and Amazon Fire TV.