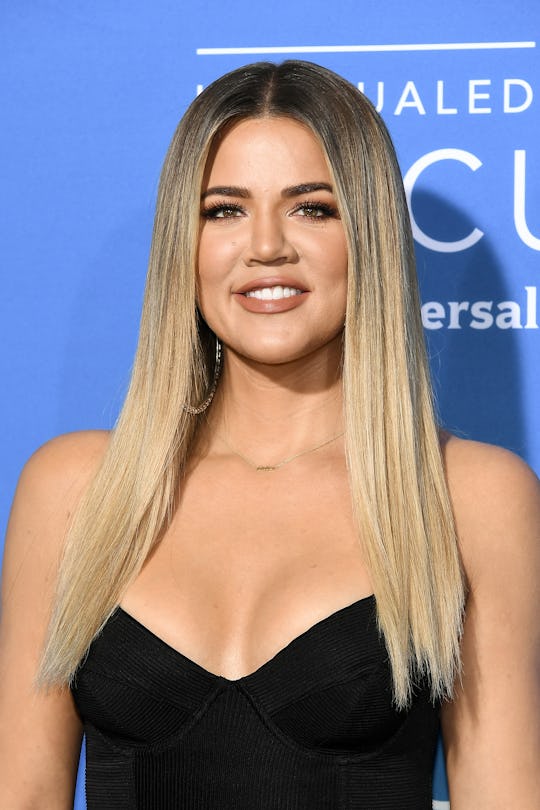 Dia Dipasupil/Getty Images Entertainment/Getty Images
Why Khloé Kardashian's Message To Those Who've Been "Brutally Broken" Is All About Empathy
Ever since Khloé Kardashian gave birth to her sweet little girl True in April, there's something decidedly different about her. Fans of Keeping Up With The Kardashians probably know that she has a bit of a reputation for being a bit of a passionate gal. Maybe being a bit quick-tempered (especially with her sisters, although let's all be honest and admit we sort of love it) and perhaps even a smidge argumentative. But these days, Khloé seems to have changed a bit. In an Instagram post on Wednesday, Khloé shared a message to people who've been "brutally broken" that seemed to really speak to her growing maturity as a mom.
The Good American designer welcomed her first baby, daughter True Thompson, with boyfriend Tristan Thompson in Cleveland, Ohio on April 12. And ever since True's birth she's been having a field day all over social media about her baby girl. I mean, that's to be expected of course. After being a famously fun, dedicated aunt for so many years Khloé was clearly ready to welcome a baby of her own. But what is really surprising and encouraging is the empathy she seems to show pretty much everyone in her life these days.
And I suspect it's all down to this little one right here.
According to Cosmopolitan, the Revenge Body host shared an inspirational quote to her Instagram Story late Wednesday evening that read:
If you've been brutally broken, but still have the courage to be gentle to other living beings, then you're a bad**s with a heart of an angel.
Khloé attributed the quote to F**kology, a popular inspirational Facebook page. While there are some who might suspect this quote, aimed at people who have been "brutally broken," could arguably be traced back to the new mom's relationship with Cleveland Cavaliers' player Thompson (who has struggled with rumors of alleged cheating in the past), I don't think so. While I don't know for sure, I like to think this quote was put out there as a reminder that empathy and being "gentle to other living beings" is a pretty great way to live life.
And a pretty great way to raise another human.
This isn't the first time Khloé has tried to share a little wisdom and kindness with her social media followers lately. She tweeted a message to fans on Monday to remind them of the power of positivity.
Over the weekend, she also shared this quote, again from F**kology, about trying to create your own happiness, according to E! News:
Don't ever feel bad for making a decision about your own life that upsets other people. You are not responsible for their happiness. You're responsible for your own happiness. Anyone who wants you to live in misery for their happiness should not be in your life to begin with.
These messages could well be cryptic statements about Khloé's rumored relationship troubles with Tristan, if indeed she is having any. They could be very public hints about her private struggle to stay positive, as some might assume.
But I think they could also well be signs that Khloé has found a deeper, richer happiness as True's mom than she experienced before. And that happiness has given her a profound sense of empathy for others.
Even for her many, many critics, perhaps.