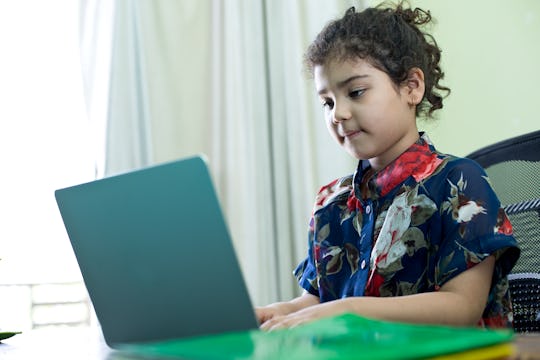 triloks/E+/Getty Images
So This Is Why Your Kid Is Starting To Hate Zoom, According To Experts
Whether you like it or not, Zoom has probably become a part of your everyday existence by now. Between your own work meetings, chats with family and friends, and (ugh) scheduling your child's endless school-related calls, it probably feels like Zoom has taken over your entire life. But even though the online platform is a blessing in some ways (most kids love tech and it offers a connection to their peers), as weeks turn into months, it's slowly beginning to feel like a curse. Parents everywhere report that their kids are sick of Zoom (and the kids aren't the only ones).
"While there are studies that show a host of benefits for adults who want to feel more connection — and some early evidence that interactive video can have benefits for language development — many children are refusing Zoom," Courtney Bolton, Ph.D., a child and family psychologist, tells Romper. "As adults, we have to remember that there is a process and timeline for developing social interaction and play. The typical trajectory doesn't account for video interfaces."
Still, for the foreseeable future, there seems to be no end in sight for those video calls. So if your child is starting to show signs that they're zonked out from Zoom, these are some of the potential reasons why — and what you can do to help your kiddo adapt as best as possible.