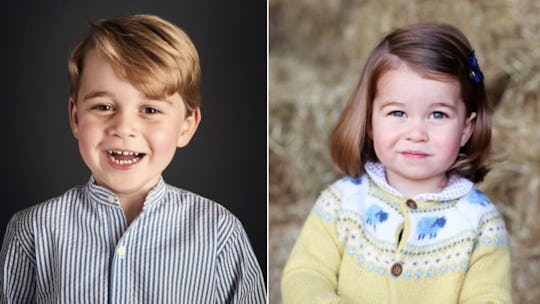 Handout/Getty Images Entertainment/Getty Images
Here's Why You Probably Won't See Photos Of The Royal Kids' First Days Of School This Year
British kids are headed back to school this week. Which means the photos we've all been waiting for are almost here... Prince George looking a tad shy in his adorable preppy little uniform, holding on to dad's hand as he enters Thomas's Battersea academy in London. Or how about Princess Charlotte, beaming with all her girl power as she readies for preschool? Well, you might want to prepare to be disappointed because Prince William and Kate Middleton may not share photos of the kids' first days of school this year. And, as with everything royal, there's a complicated reason why.
As ELLE reported, last year was an exception in the Duke and Duchess of Cambridge's household (remember, those are Prince Will and Duchess Kate's proper titles, given to them by the Queen after their marriage). Last year at this time, Middleton was pregnant with Prince Louis and needing rest, the result of her severe morning sickness, known as Hyperemesis Gravidarum. So it was natural that Prince William should step in, which made pics of Prince George holding on to his pop's hand as he walks a bit uncertainly into his new school all the more touching.
As you may recall, Fall 2017 was also the beginning of Prince George going to primary, or elementary, school, so it really was a big occasion, and an adjustment for the little guy.
Meanwhile, back in January, Princess Charlotte celebrated her own milestone, starting Willcocks Nursery School in Kensington, a stone's throw from Kensington Palace.
Well, that was then and this is now. Those photos were all so cute, and very revealing as far as making you think you know the royal family, so you might have expected follow-ups this year. But, according to HELLO!, magazine's royal correspondent, Emily Nash, reported that the world won't be gifted with such treasures this year. "Prince George's time at school is private and although the Duke and Duchess shared an image from his first day at primary school last year, they won't do it every year," Nash wrote for HELLO!.
In fact, according to HELLO!, royal tradition appears to dictate that children are only pictured on their very first day of school, but young royals aren't photographed in subsequent academic years. Serious students of the British monarchy already know that, in fact, there were only a couple available-to-the-press pictures ever of Prince William and Prince Harry off to school with mom Diana in their childhood, as ELLE reported.
Before you sob your sorrow, though, more royal-watching opportunities are coming up: According to HELLO!, Princess Eugenie's wedding in Windsor next month may include Prince George, now 5, and Princess Charlotte, now 3, as pageboy and bridesmaid, just like they were for Prince Harry and Meghan Markle, and at the very same fairytale locale. (Baby sibling Prince Louis is too surely too young to have an official role, save to stay he'll be close to mum Duchess Kate.)
Meanwhile, Express reported that when Prince George returns to class, he will be expected to take ballet and that Duchess Kate is slowly getting back in the swing of things. According to Express, she's expected to share drop-off duties for both schools with Prince William.
While it might be a bummer to hear that you won't see Prince George and Princess Charlotte in their adorable uniforms this year, remember that there's still one royal baby to start preschool: little Prince Louis. And that's not counting the possible future wee royals from Prince Harry and Markle's line. Or maybe Prince William and Duchess Kate will have a fourth child? Who knows what the future may hold.
So chin up, royal fans, there are still more fun photos to come!