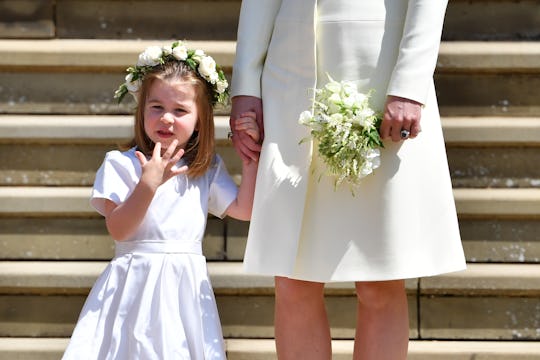 WPA Pool/Getty Images Entertainment/Getty Images
This Rule Princess Charlotte Reportedly Has To Follow Is Something All Parents Will Understand
There aren't a lot of things most people have in common with the royal family. But, as it turns out, they're a little more like regular families than you'd think — at least when it comes to the kiddos. According to Harper's Bazaar Australia, Princess Charlotte is forbidden to sit with her parents at dinners during special occasions or royal visits until she learns the "art of polite conversation." Same, girl, same.
Apparently, Prince George and Princess Charlotte are officially at the kids' table until they get a little older and are more articulate. It's possible that 4-year-old Prince George has already been upgraded to the grownup conversation, but it's unclear if that's happened yet. So, let's just assume that until each of them can wax philosophic on global politics, humanitarian outreach, and whatever nonprofit they want to work for, they're stuck with each other eating chicken nuggets and mac and cheese.
Which is probably the most normal thing the royal family does, if you think about it. It's odd that it's a requirement of royal protocol, as Harper's Bazaar explained, but what family doesn't make all the kids sit together at holidays and parties so that adults can actually enjoy themselves for a meal or two. Or, you know, talk about something other than PAW Patrol. Forcing two toddlers to dress up and sit still during a special dinner would be brutal for everyone involved.
Then again, as a foreign dignitary or a guest of Prince William and Kate Middleton, part of the draw would be to talk to Prince George about when he met President Obama and get the lowdown on Uncle Harry's wedding from Princess Charlotte. Alas, all of those convos will have to wait until she can carry her own over a multi-course meal.
There are some other rules for Princess Charlotte to reportedly follow, too, that will supposedly help her master the art of polite conversation. One of those things is that royal kids have to learn at least one other language, though being "trilingual" is a plus, according to Harper's Bazaar. Princess Charlotte is reportedly already taking Spanish, the publication reported. Prince George is also learning Spanish, according to Marie Claire.
There are also rules about posture; women in the royal family are expected to use the "Duchess slant," or a technique of sitting with their legs, knees, and ankles kept close together, as People explained. They also follow a strict dress code. Princess Charlotte, for example, is never seen without tights, a Peter Pan collared dress, some Mary Janes, and a bow in her hair. This isn't by chance — it's a modest and proper way of dressing a young princess for her seat at the kids' table. She is technically allowed to wear pants, as is her mother, but not for formal engagements or anywhere around the queen in public, as reported by Brit & Co.
In addition to that, Princess Charlotte hopefully liked her flower crown at Meghan Markle's wedding, because she can't wear a tiara until she's a married woman. As The Sun reported:
The old rule is that hats are never worn indoors after 6pm, because that is when the ladies changed into evening dress, and tiaras and the family jewels would come out. For married ladies it was a sign of status and would show you were taken and not looking for a husband. For the gentleman it was a clear sign not to make advances toward the lady in question.
Royal protocol and etiquette is in place to protect the family and its image. And while some of the requirements might seem odd to Americans, they do sort of make sense. Princess Charlotte's parents, along with Prince Harry and Markle, are all about modernizing the royal family, which might mean that we'll see little Princess Charlotte in some slacks every so often, or a really pretty tiara for her 16th birthday.
Prince Harry told Newsweek last year that no one actually wants to be doing this anymore in the family, at all. He said, "Is there any one of the royal family who wants to be king or queen? I don't think so, but we will carry out our duties at the right time. It's why Prince Harry does his own grocery shopping, as he mentioned in the same Newsweek interview last year, or why the Duchess of Sussex was allowed to walk down the aisle all by herself if she wanted.
But some rules aren't meant to be broken, such as banishing children to the kiddie table. Sorry, Charlotte, it's just how things are done.