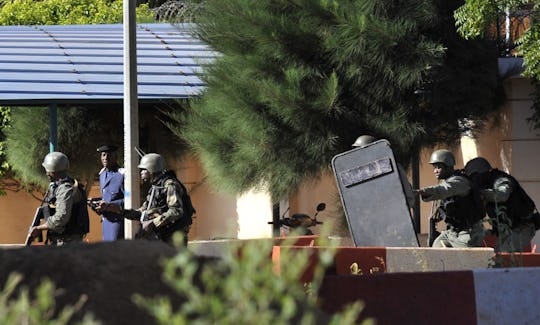 Why The Mali Attack Deserves Our Attention Just As Much As Paris
One week after the ISIS-led terrorist attacks in Paris, we are all still in shock over a massacre that seemed so senseless, taking 130 innocent lives and injuring over 350. We've heard from survivors and victims' families, shared Paris-themed memes and tweets, and filtered our Facebook profile photos to include the colors of the Paris flag. But the attack that took place at a hotel in Mali Friday morning by Islamist militants is a reminder that Paris is only one of many cities that has been victimized by terrorist violence, and only one city deserving of our collective attention and support.
Most of us woke up on Friday to headlines about hostages taken in Mali by Islamist gunmen, and immediately linked it to Paris in our minds. After all, there are a lot of similarities: masked gunmen opening fire on innocent civilians, shouting Allahu Akbar to show their affiliation to Islam, and holding approximately 170 people hostage. Was this ISIS striking again? Is this also the work of Abdelhamid Abaaoud, the man who masterminded the Paris attacks and was confirmed dead in Wednesday's police raid in Saint-Denis? Is this one of the follow-up attacks threatened by ISIS in their latest propaganda video?
(Update: On Friday, the Islamic Militant Group Al Mourabitoun claimed responsibility for the Mali attack, along with al-Qaeda. At least 21 people have been confirmed killed, along with one American.)
What we do know is that Mali has been politically unstable for over four years now, and the threat of terror attacks is constant. Islamist militants opened fire in a different hotel in central Mali in August, killing 13 people, and five more people were killed back in March in a terrorist attack at a restaurant in Bamako, the capital city of Mali where the Radisson Blu is also located.
After a rebellion by the Tuareg ethnic minority group in Mali in 2011, and a military coup d'état in 2012, Islamist groups, including al-Qaeda, took control of parts of north and central Mali. French military forces came to assist the Malian government in 2013 (Mali is a former French colony), and both France and the U.N. have worked to push back Islamist control in Mali, and to reclaim the north from the rebels. The latest attacks on the Radisson Blu in Bamako is yet another response by Islamist militants both to France's military involvement, as well as the Malian government's attempts to keep the rebel groups from seizing power of the West African country.
When a country is frequently the site of violence, especially when it's a country that seems unconnected to our own, it's easy to feel like individual incidents there aren't worthy of attention, either because the problems feel specific to the region (and thus incomprehensible to outsiders), insurmountable, or both. But those areas of the world are actually most deserving of international attention. When violence is always imminent, a country's economy and infrastructure necessarily suffer. More than any other, strife-ridden nations need the help and ideas of the rest of the world.
France has been on the receiving end of the world's sympathy since the attacks on November 13 — and rightfully so. But the Mali attacks are a reminder of all the innocent people who live with the threat of terrorism every day. And it sounds like this won't be the last time people in Mali will be attacked, either.
All of the outpouring for France, and the outrage over ISIS is necessary and important. But in the wake of the Paris attacks, many have been asking why we aren't showing the same kind of support for other countries, like Kenya and Lebanon, who have also been the target of ISIS attacks. And now, with another attack, this time in Mali, the need to give our attention to all the countries victimized by terror seems even more important. So while we're #prayingforparis, let's make sure we #prayformali too.
Image: HABIBOU KOUYATE/AFP/Getty Images News