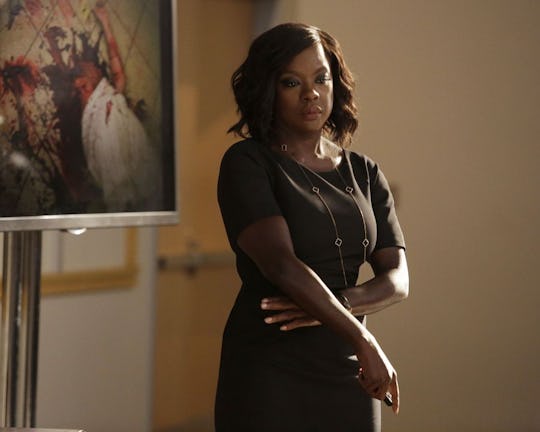 ABC/Nicole WIlder
Why Was Annalise Suspended On 'How To Get Away With Murder'? It's Not Stopping Her
Of all of the things Annalise has done up until this point, it's a legitimate surprise that it has taken Middleton University this long to reprimand her in any way. Well, it's not like she's in trouble or anything, but why was Annalise suspended on How to Get Away with Murder? Interestingly enough, it was through no fault of her own that she was punished by the school board for the flyers that are circulating, calling her a killer. Basically, because of her harassment at the hands of some mystery stalker, Annalise was suspended.
The president of the university cited the safety of the students and staff as the reasons for why it was decided that it would be best for Annalise to take some time off work. The flyers with Annalise's photo and the word "killer" splashed across them in red letters began in the Season 3 premiere of HTGAWM, but the photos keep coming, spread out over campus, eliciting questions and worry from both students and the public in general.
In order to protect the students and staff of the university, Annalise was let go on suspension in the hopes that the person targeting her would stop or, at the very least, that the bad publicity surrounding the school would go away.
On the one hand, Annalise being suspended was a long time coming, with all of the stuff she's pulled as a law professor and all of the hundreds of lines she's crossed with her students. The most recent one being asking Wes to move in with her like it's a totally normal thing to which he replied, "But it's weird." And it was. But why didn't they suspend her when she was literally about to go to jail for her husband's murder? Or when she was basically going through a nervous breakdown last season?
Since the beginning of HTGAWM, Annalise has been more than just a professor, though. There's a reason why most of the scenes were shot in her home rather than the lecture hall. No one wants to watch college kids sit in class and now more than ever, the Keating Five are all grown up, and having Annalise suspended from teaching at Middleton means that she'll be freed up to find Frank, figure out who killed Wes's dad, and get to the bottom of those killer accusations.
One of Annalise's last lines from Thursday's episode was, "...you will not keep me from teaching my students," which I don't suspect they will, as things likely go back to the normal we knew when she was holding meetings in her living room and Laurel and Frank were making out in the kitchen.