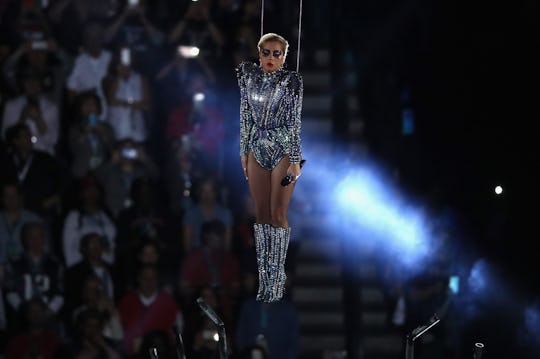 Ezra Shaw/Getty Images Sport/Getty Images
Why Didn't Beyonce Take The Stage With Gaga?
When Lady Gaga began singing "Telephone" at Super Bowl 51 it was as if the BeyHive was summoned to the show. Was Bey going to come out? Was this The Song? Was this The Moment? Unfortunately, as Lady Gaga promised, there were no guests in her halftime show, not even Queen Bey. So why wasn't Beyoncé in Lady Gaga's Super Bowl halftime performance?
After Beyoncé showed up for a surprise performance at the Super Bowl last year, fans were desperately hoping she'd make a surprise appearance again this year during Lady Gaga's performance. The two women have two songs together ("Telephone" and "Videophone") and the Super Bowl took place in Beyoncé's hometown of Houston, Texas this year. All the signs seemed to point to a surprise Beyoncé performance and yet, when Gaga performed "Telephone," she performed it alone.
Although I'd love to believe that Beyoncé is unstoppable and can do all things, she did recently announce she's pregnant with twins, which could be one reason she didn't perform this year. Still, the Queen Bey is scheduled to perform at Coachella later this year so many of us (me, I mean me) were hoping that she and the buns in her oven would come out to perform. Sadly, this was not the case.
Naturally, many Beyoncé fans were disappointed by the no show even though Gaga warned us it wasn't going to happen. However, celebs lie to us all the time about surprise performances so can she really blame us for keeping hope alive? Regardless, the truth of the matter is there was no Beyoncé at this year's Super Bowl and with these two new babies on the way, who knows how long we'll have to wait until she does another Super Bowl performance. (It's already been much too long, in my opinion.)
Thankfully, even without Beyoncé there sharing the stage, Gaga's performance was absolutely amazing and made watching the Super Bowl worth it. Starting her performance by singing "God Bless America" before flying into the stadium was a sure-fire sign that her halftime show was going to be iconic. Going through almost her entire repertoire, Gaga took be back to high school with "Poker Face," "Bad Romance," and "Born This Way." She also sang her recent single, "Million Reasons," which may have made me tear up just a little.
The whole show was amazing and though I didn't get to see Beyoncé slay I'm 100-percent happy with Gaga's stunning halftime show and I'd watch it again.