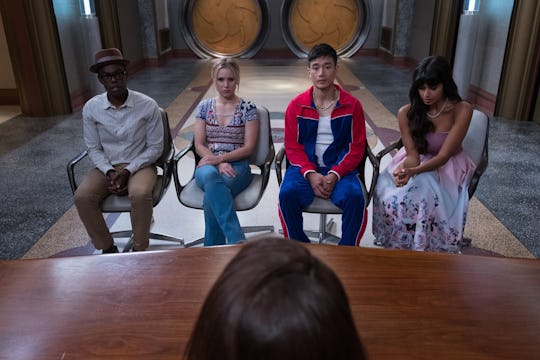 Colleen Hayes/NBC
'The Good Place' Didn't Make The Cut For The 2018 Emmy Nominations
We are truly living in the golden age of TV and, in some ways, the golden age of comedy as well. While I legitimately miss some other big comedies that are no longer on the air — ahem The Office — there have been plenty over the past few years to take the place of those we've lost. So for the 2018 Emmy nominations, it was hard not to notice that The Good Place wasn't nominated for an Emmy for Best Comedy Series.
Over the past year, there were a ton of comedies on TV and on streaming platforms that are deserving of all of the awards, but since the Academy couldn't choose them all to nominate, The Good Place was snubbed this time around. With competition like Atlanta, Curb Your Enthusiasm, and Silicon Valley, just to name a few, there are tons of comedies across all networks and platforms right now that many fans would argue deserve every nomination they're eligible for. But with The Good Place, apparently its most recent season didn't have what it takes to snag that nomination.
It's only been on for two seasons, so there's a chance that it just hasn't gained its footing yet, even if it isn't necessarily in danger of a premature cancellation. Sometimes, comedies get their Emmy nominations right away, while others last a couple of seasons without the much-deserved praise for the hard work that goes into these shows. And right now, The Good Place got a taste of that, however much it might have deserved a couple of nods.
Since the show is just two years old, there's still plenty of time to earn big awards and make its mark on TV. Last season, The Good Place didn't bring home an Emmy or even see a nomination for Best Comedy Series at that time either. However this year, Ted Danson was nominated for Best Actor in a Comedy Series for his performance as a series regular on the show, so if that's the case, you'd think The Good Place would have been given some recognition as well.
Since the premiere of The Good Place in 2016, it's earned an average of more than five million viewers per episode per season. Since that number hasn't really gone down since the first season and fans clearly came back for more, most viewers expected the Academy to recognize that with the Emmy nominations for 2018.
If you look at the list of nominated shows that did make the cut, they come from a variety of different networks and platforms. But of the eight, three of them are from either Netflix or Amazon Video and just one is from network TV, while the rest are from cable channels. This means that in order for The Good Place to have made the cut, it would have had to potentially beat out Black-ish and that just wasn't going to happen.
I don't think there's any set amount of nominees that need to come from certain networks or from standard television channels as opposed to paid cable networks or streaming platforms, but there's just so much competition these days. Where once upon a time, networks just had each other to contend with, there's now amazing content being produced and churned out by a number of different streaming services and cable networks as well. Because of this, a relatively new show like The Good Place just wasn't able to snag a spot on the list.
For now, fans of The Good Place can take comfort in the fact that at least Danson got a nomination for his work on the show, which means something. And all we can do is continue to watch and hope that next season, the show gets the forking recognition it deserves.