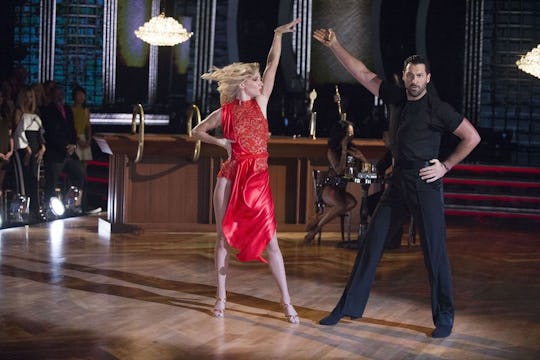 Eric McCandless/ABC
Heather & Maks' 'DWTS' Elimination Came Down To The Votes
I wouldn't say that Dancing With the Stars is a popularity contest exactly, but when it's all said and done, the fans' votes really are where it matters the most. But since they were a couple of fan favorites, why were Heather Morris and Maks Chmerkovskiy eliminated on DWTS? In the end, it was the fan votes which had the most control, so what happened? In case anyone forgot (how could they though?), Chmerkovskiy had been out for the past several weeks due to his injury and troupe dancer Alan Bersten had stepped up to bat in his place.
While Bersten did amazingly as Morris' partner and was even in charge of choreographing their "Toxic" routine for Vegas Week, fans clearly just didn't respond to the pair as much as they did with Morris and Chmerkovskiy together. According to Wetpaint, the breakdown of the judges' scores and the votes from viewers is that once each pair's votes are calculated at the end of the night, what's then added to those scores is the percentage of fan votes. And after that, it's determined who made out with the highest overall score. But what this boils down to is that the viewers' votes on DWTS actually have more power than anything the judges say.
For example, if Nick Viall and Peta Murgatroyd earned a total of 34 points from the judges and then Bonner Bolton and Sharna Burgess did too, in order to determine who scored higher between them would depend on their fan votes. And despite any official scores given by the actual judges, if a larger percentage of fans voted for Burgess and Bolton, then the other team would be out. So with Morris and Chmerkovskiy, the fan votes were obviously where the problem was.
Even Murgatroyd, who voiced her disappointment at her fiance's elimination Monday night, told Entertainment Tonight, "The show is based so heavily on fan votes, so I think that's just it. They just lacked that, I guess." I hate to say it again, but it all comes back to viewers just not feeling Bersten and Morris as a pair, despite the fact that they still received high scores together while Chmerkovskiy was recuperating. While the fan votes aren't what it's all about in terms of scoring on DWTS, they're added in and make a big difference for some of the contestants.
Morris and Chmerkovskiy ended the night with the first perfect score of the season, but since voting for each week is done and calculated in the week leading up to each episode, fans had already voted on the basis of Morris and Bersten rather than the routine she performed with Chmerkovskiy last Monday night. As great of a dancer as Bersten is (and he really was an excellent stand-in), the fact of the matter is that when it came time for fans to vote, there wasn't enough support for Morris and Bersten.