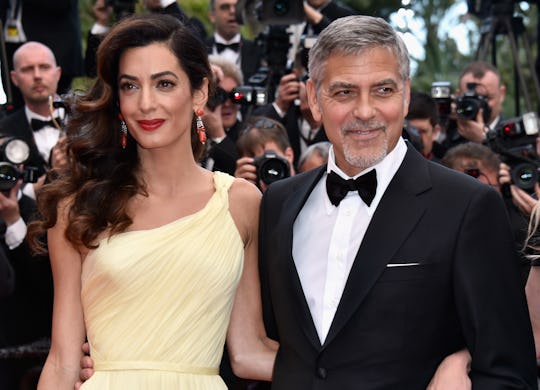 Pascal Le Segretain/Getty Images Entertainment/Getty Images
Will Amal & George Clooney Have More Kids?
One of the biggest celebrity events in June was Amal and George Clooney gave announcing the birth of their twins, Ella and Alexander. Fans of Amal and George were thrilled to see the two had expanded their family, and every little detail about the twins was exceptionally sweet. Even though the twins are not even 1 month old, fans are curious (even if it's way too soon and kind of annoying) about whether Amal and George Clooney will have more kids?
According to In Touch Weekly, Amal and George likely won't have more kids. Although the news might come as a disappointment to fans, it could be what's right for their family at the moment. The insider told In Touch Weekly:
They've decided they aren't having any more kids. They have their boy and girl. And George knows he's not getting any younger.
As for the subject of George's age, he turned 56 on May 6, according to Us Weekly. Although there are many older dads in Hollywood like Steve Martin and Mick Jagger, fatherhood late in life is not for everyone. If George supposedly feels like he's too old to have more kids down the line, he's definitely entitled to feel that way.
George's age aside, the new parents are still adjusting to life with twins. A source explained to Hollywood Life:
[George Clooney] loves the twins and is having a blast with them, but when it comes to having more children, it is going to end at two. The urge, if there was even one to have more, is not a thing as their hands are full. George and Amal [Clooney] are perfectly happy with the two little ones they have and three will not be a charm.
In addition to raising two little ones, Amal and George lead hectic professional lives. On Nov. 3, Paramount Pictures will release George's self-directed film Suburbicon, according to The Hollywood Reporter.
Similarly to George, Amal is also preoccupied with work. According to Harper's Bazaar, Amal plans to return to her job as a human rights lawyer "six months," after giving birth. A source added:
Amal has no intention of quitting the career she's worked so hard for.
All of that being said, it's not a stretch to say that Amal and George's "hands are full." Although many parents raise large families while maintaining careers, it's not the right choice for everyone. Not to mention, it's especially daunting and stressful to juggle a career as the parent of multiples; in a study conducted by the Early Childhood Longitudinal Study-Birth Cohort, "mothers of multiple births had 43 percent greater odds of having moderate or severe postpartum depressive symptoms compared with mothers of single babies," according to CNN. Given the risks associated with delivering multiples, Amal might have made the decision to take a break from having children for the time being, although she hasn't spoken on the matter and there's no reason to believe she may be suffering from PPD.
If Amal and George have decided not to have more kids, then it's likely a decision they put a lot of consideration into. Although fans might want to see Amal and George expand their family once again, the parents deserve respect if they don't.