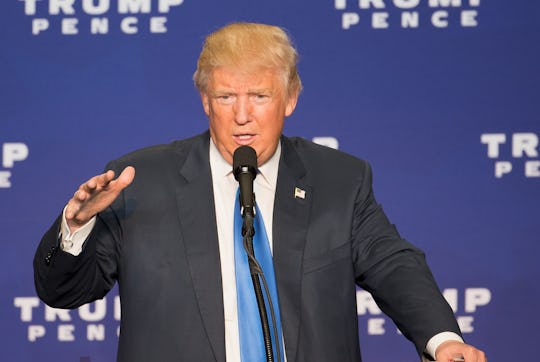 TASOS KATOPODIS/AFP/Getty Images
Will Any Of Trump's Accusers Attend the Last Debate? The Topic Will Likely Come Up
A curious trend has started this election cycle where candidates invite surprise, controversial guests to sit front-and-center during the debate. The guests are intended to throw the competition off their game. With the third, and final, presidential debate scheduled for Wednesday, it begs the question: Will any of Trump's accusers attend the last debate? There hasn't been an official announcement, but if the Clinton campaign intends on using the women to intimidate Trump, they likely wouldn't announce it in advance. Trump for his part has vehemently denied any wrongdoing. Romper has reached out to the Trump campaign for comment, but has not yet received a response.
The campaign for former Secretary of State Hillary Clinton was the first to use a high-profile debate guest as a tactic to throw her opponent off his game. Mark Cuban, the billionaire businessman, has been intensely critical of Trump and was seated front and center at the first presidential debate in September. Over the course of the presidential campaign Cuban has cast doubt on Trump's claims of enormous wealth and even called the candidate a "jagoff" at a campaign stop, according to Politico.
When word broke that the Clinton campaign had invited Cuban, Trump fired back, threatening to bring former President Bill Clinton's alleged mistress, Gennifer Flowers, although he didn't actually make good on that threat, according to Business Insider.
But Trump picked up on the idea of inviting blockbuster debate guests and used three women who have accused Bill Clinton of sexual impropriety, and one woman who accuses Hillary Clinton of laughing at her after she was raped, to try and get an edge over Clinton. Juanita Broaddrick, Paula Jones, Kathleen Willey, and Kathy Shelton are all women with long-standing beef with the Clintons who Trump brought to the debate to try and rattle his opponent. (Bill Clinton was never charged with any crime in any of the accusations and Clinton did not laugh at a rape victim.) According to NBC News, Trump's original plan was to have the four women walk out into the debate audience at the same time as former President Bill Clinton and confront him to create a scene in front of the cameras. The Commission on Presidential Debates stepped in at the last minute and stopped the stunt. Instead, according to NBC News, the women were seated among the rest of the audience.
In the days leading up to the third and final debate, Trump announced one of his guests for the Las Vegas debate will be Pat Smith, the mother of Sean Smith, one of the Americans killed in the 2012 embassy attack in Benghazi. Smith also spoke at this summer's Republican National Convention and said she personally blames Clinton for her son's death.
"I think I'm going to be in the front row. But I'm not sure," Smith said, according to Fox News. "I want to look in Hillary's eyes, and have her lie to me again."
Will Clinton retaliate by inviting any of the women who have accused Trump of inappropriate sexual behavior? The Clinton campaign doesn't seem to be trying to make a big deal about its guest list for Wednesday's debate, but who knows what they'll try and spring on Trump to bait him into another tirade.
But let's hope for everyone's sake that Clinton "goes high" to use the First Lady's line. Those women have been through enough. And the American public can only take so much more of this ugly election. Using those women to gain a couple of extra points in the polls might not be a very good look on Clinton and probably wouldn't do her any favors with voters either.