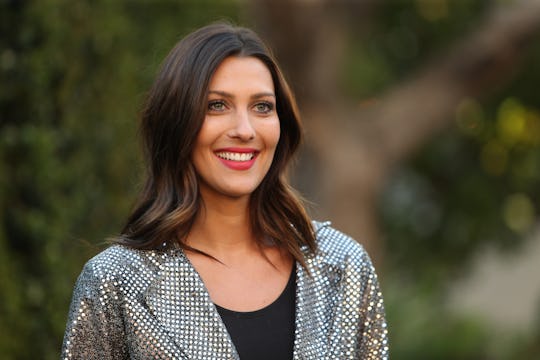 Paul Hebert/ABC
Becca Is A Strong Contender To Be The Next 'Bachelorette'
At 27-years-old, Becca Kufrin is the perfect age to become Bachelor royalty. The question is: will Becca and Arie ride off into the sunset together, or will Becca be the next Bachelorette? It's easy to root for her either way as a fan. She's the perfect blend of being serious about marriage and laid back enough to seem cool and relatable.
Her family is warm and kind, but scarred by tragedies like the death of her father and her mother's battle with breast cancer. As a result, they're deeply protective of her and scrutinize her boyfriends heavily. She even comes with a terrible ex who strung her along for seven years without ever committing and then showed up in Peru on the eve of her possible engagement to win her back. Becca's story has all the classic elements of a Bachelorette-to-be. Of course, for her to become the next Bachelorette, Arie Luyendyk Jr. would have to dump her in the finale.
He's down to Becca, who's based in Minneapolis has a passionate, stable career in PR, and Lauren, a Virginia Beach native who's been criticized this season for how quiet she's been. Viewers are having a hard time understanding how she's made it this far when we've gotten such a poor sense of who she is as a person, but Arie's connection with her must be super strong. He's repeatedly given her chances to open up, kept her on even though she's struggled to be vulnerable, and he seems committed to giving her all the reassurance she needs to stay.
Traditionally, this type of contestant would lead a Bachelor to deduce that she couldn't be vulnerable and authentic in their relationship, so he would eventually cut her, no matter how much he liked her. But for whatever reason, Arie feels strongly enough for Lauren to push through. Some people on Twitter even pointed out during their fantasy suite date that it seemed like Lauren was the Bachelorette and Arie was vying for her attention.
All of this is to say, Lauren seems like a very strong contender for a proposal in the end, and she doesn't seem like a great Bachelorette pick. Becca is, comparatively, a much more natural fit to take over. But the franchise has been throwing us curveballs the last few seasons, which may suggest that Becca is not as much of a shoe-in as she seems.
While the Bachelorettes have continued to be chosen sequentially from the previous seasons of The Bachelor, the last two Bachelors — Arie and Nick Viall — have been chosen from long-ago seasons of The Bachelorette. It's possible the show could cast its first ever throwback Bachelorette this year. Kristina Schulman has been mentioned as a possible pick if the show chooses to go this route, while some have suggested that Corinne Olympios might be an interesting choice, too.
The Women Tell All special seemed like a glorified Bachelorette audition for two contestants in particular: Seinne and Tia. But back-to-back black Bachelorettes with strong points of view on franchise diversity seems like too much to hope for, and Tia, although a very traditional Bachelorette choice, got a little judgey of the other women toward the end of her run, which lost her some fan support.
Kendall or Bekah would make good unexpected oddball picks, but, in the grand scheme of things, Becca Kufrin seems like the most obvious choice, should she not walk away from The Bachelor engaged. We'll have to stay tuned to find out how things play out for her.
Check out Romper's new video series, Romper's Doula Diaries:
Watch full episodes of Romper's Doula Diaries on Facebook Watch.