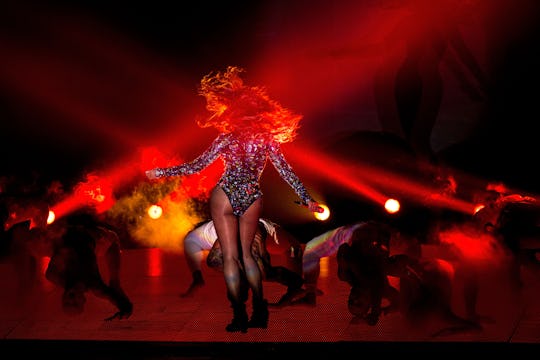 Mark Davis/Getty Images Entertainment/Getty Images
Will Beyonce Take The Stage At MTV's Video Music Awards?
Well, 2017 has definitely been a rollercoaster of a year, in just about every way imaginable. A reality television star moved into the White House, a nuclear war is actually a fair possibility, and there have been far too many acts of violence here in America. But, good things have also happened. Taylor Swift shut down the haters, and her assailant, in her sexual assault trial, Chrissy Teigen remains the reigning queen of Twitter, and Beyoncé gave birth to a healthy set of twins. But, as the singer and mom of three just gave birth, will Beyoncé perform at MTV's Video Music Awards this year?
It's seems highly unlikely. According to the VMA's website, the current lineup for performers tonight is: Kendrick Lamar, Fifth Harmony, Shawn Mendes, Miley Cyrus, Lorde, Thirty Seconds To Mars, Ed Sheeran, and The Weeknd.
At the moment, there is no sign of a Queen Bey performance to steal the spotlight. But, since the 35-year-old singer could be in attendance, it would indeed be a wonderful surprise if she decided to bless us all with an exclusive look at what she's been up to when she's not mothering her newborn twins, Rumi and Sir Carter, and her 5-year-old daughter, Blue Ivy.
Seeing as how the rumor mill has been speculating that Bey will come out with a response album to husband, JAY-Z's fairly soon, a VMA performance from Beyoncé would definitely fit the bill.
After Beyoncé gave birth to her twins back in June, the singer took a month-long hiatus from social media, likely in order to take some much-deserved time off and bond with her new little ones. However, it didn't take long for Bey to bounce back into the spotlight after giving birth.
Speaking to Hollywood Life, an anonymous source revealed: "Considering how many difficulties she experienced during the pregnancy, she's bouncing back really fast."
"Beyoncé's energy levels are already getting back to near normal, and her body is looking amazing," the source continued, according to Hollywood Life. "Bey hasn't set herself any crazy timeframe to abide by, she's just enjoying adjusting to the new family demands, and allowing herself to heal accordingly."
Clearly, Queen Bey really is a superhuman. Seriously, she just birthed two babies out and is already looking and feeling like the superstar she is. So, while we really can't expect anything more from her, a Beyoncé performance really would add a much-needed cherry on top of 2017 and make this year a bit more bearable.
However, it looks now, the chances are pretty slim that Beyoncé will get on the VMA stage tonight. But, then again, there's always a chance of a Bey-style surprise. Hey, we can dream, right?