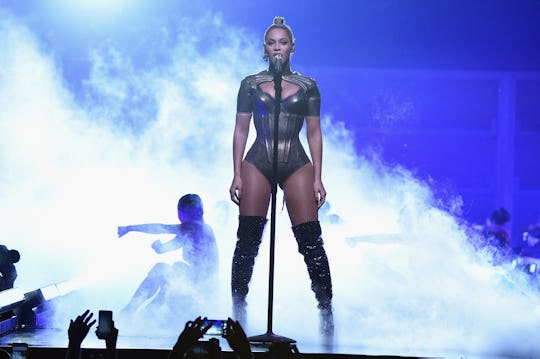 Theo Wargo/Getty Images Entertainment/Getty Images
Will Bey & JAY-Z Tour Together?
Beyoncé reportedly influenced and helped JAY-Z out a lot with his latest album 4:44. So now that he's announced the dates, will Beyoncé tour with JAY-Z later this year? As of right this very minute, there is no confirmation or indication that Beyoncé will be making appearances at his shows, either backstage or on-stage. However, it's likely that she'll make a few stops with him. The tour is not a very long one (just October through December) and it's all U.S.-based for now, which means that it would be easy for Beyoncé and the fam to meet up with him along the way.
JAY-Z scheduled the tour sort of like a full circle. He'll start out on the West Coast in October; the tour then heads south to cities in Texas and on to Nashville. By Thanksgiving week, he'll be in New York City and will then make his way back to the Northwest, ending the tour in Los Angeles just before the Christmas holiday. JAY's already added another Brooklyn show and will possibly add another; There were two empty days between New York City and Washington, D.C. and it's common for stars to sell out shows and then add more dates once tickets officially go on sale (in this case, on Friday July 14. At the moment, only Tidal and Citi card members can purchase them).
In any case, there are a few blocks of time and opportunities for Beyoncé to join the 4:44 tour.
Way back when, it used to be tough for families to stick together during a tour, especially if the artist was stuck with a bus or a super long tour. But when it comes to Bey and JAY-Z, they sort of make their own rules. Hopping on a private plane and camping out for a few days would be no big deal for Beyoncé and the kids.
Much like JAY-Z and Blue Ivy tagged along when they could for the Formation World Tour, it's likely Beyoncé will do the same for her husband. Beyoncé's music lends itself more to rare appearances by JAY-Z during her tours, and it's not clear that Bey would come out for any particular tracks. But when it comes to these two creative types, anything is possible.
In the fall, while her dad is touring, Blue Ivy will likely be attending school, since that's the reason the family moved to California in the first place. That means the real question is whether or not Blue can get off a few days a week to tour with her dad. (JAY-Z's fans are going to want to hear that freestyle live, after all.)
The Carters have been living in Malibu since the birth of their twins earlier this summer. Fans haven't been privy to any official confirmation (or pictures) of the twins, but Beyoncé and JAY did trademark their names, Rumi and Sir, so they do exist. Having twins is not easy, but everyone will have likely found their balance by the time the tour kicks off at the end of October. With the support of staff and family, Beyoncé and the babies might even feel up to a mini vacation to catch a few 4:44 shows.