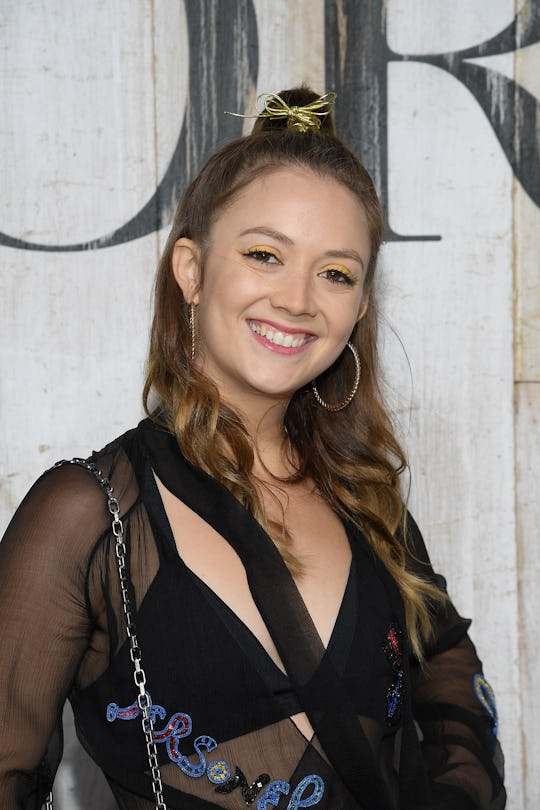 Pascal Le Segretain/Getty Images Entertainment/Getty Images
Billie Lourd's 'AHS: Apocalypse' Character Is Shrouded In Mystery
Billie Lourd has only been part of the American Horror Story franchise since last season, but she already sort of seems like one of the stars who have been with the franchise for years. So will Billie Lourd be on AHS: Apocalypse? According to Deadline, Lourd will be a part of Season 8, but the details surrounding her character have been kept under wraps. Lourd's IMDB profile has her AHS: Apocalypse character listed as Mallory, but other than that, and the fact that she'll be in a lot of episodes this season, there's not much else known about her character at this time.
At the very least, fans of Lourd's TV work will get to see her again, which is a treat in itself. She first graced the small screen as Chanel #3 on another Ryan Murphy show, Scream Queens. Then, she played both Linda Kasabian and Winter Anderson last season on AHS: Cult. This time around, it's unclear how big her role is, but unlike some of the other returning cast members, Lourd will play just one character. And, judging by the American Horror Story Season 8 promos, she could have strong links to some of the other characters played by fellow cast members Evan Peters and Leslie Grossman.
In the preview, Lourd's character is on a plane with Peters,' Grossman's, and Joan Collins' characters. In the quick scene, it's still not clear who Mallory is supposed to be, but right after she sees there are no pilots in the cockpit, their plane starts to go down. Later in the promo, you can see Peters, Grossman, and Collins at Outpost Three, which appears to be some kind of underground bunker. Only it's much more glamorous than any doomsday bunker I've ever seen. Although Lourd's character is only shown in one scene in the promo, there's a good chance that she also ends up at Outpost Three.
The actual AHS: Apocalypse plot doesn't give any clues away about Lourd's character either, but it does leave room for Mallory to be connected to pretty much anyone. As Murphy confirmed ahead of Season 8 production, the season is going to be the much anticipated Murder House and Coven crossover that fans have been waiting for. I'm not sure how much of the season will take place at the actual Harmon residence from Season 1, but given the mystery surrounding Lourd's character, she could be linked to the ghostly family. Or, since several of the witches from AHS: Coven will be back, she might have ties to one of them.
Besides the AHS: Apocalypse promos, which have done their job in showing a creepy and mysterious season ahead, there haven't been many other major clues leaked about the season. Around the time the season began filming in June, Murphy spoke to Entertainment Weekly and teased the return of some favorite AHS alums. And even though Lourd is still relatively new to the franchise, I see her becoming a staple, much like Peters and Sarah Paulson have. "You will see so many fan favorites return [this season] that you'll feel like it's The Love Boat," Murphy said. He also hinted at a big test of the season. "It's a season unlike anything we've done because there's a big hook to it," he added. "There's a huge thing that happens in Episode 5."
Unfortunately, that doesn't give much away in terms of who Lourd will be on AHS: Apocalypse, but it does make the season sound promising. And regardless of what Lourd's character will be like, she's bound to knock it out of the park, much like she did on AHS: Cult.