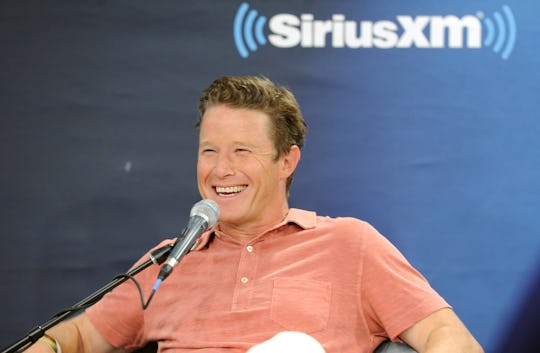 Craig Barritt/Getty Images Entertainment/Getty Images
Will Billy Bush Be Fired? He's Suspended From The 'Today' Show
It's not just Donald Trump who's suffering the fallout after an anonymous leaker and The Washington Post collaborated to make public a 2005 video of the Republican presidential nominee gloating about forcing unwanted sexual advances on women he deems beautiful. Billy Bush, then an Access Hollywood host filming a segment with Trump, is the other man who was mic'd up and laughing along during the would-be private conversation. Bush has since become a Today show co-host, but now that position is in jeopardy. Trump has adamantly declared he won't relinquish his spot at the top of the ticket even as party elites — including his own running mate — condemn his comments and distance themselves from him, but will Billy Bush be fired?
America went justifiably nuts when the Post released the three-minute, formerly archived NBC video Friday, reeling at the revelation that the man who's this close to becoming the leader of the free world had bragged about groping women's genitals without consent. Before releasing a brief recorded apology with the flat affect of a hostage appearing in a ransom video ("I said it, I was wrong, and I apologize," he intoned), Trump attempted to dismiss and normalize the interaction as mere "locker room banter."
Bush, who has since been suspended from Today, offered what seemed like a more contrite, thoughtful reaction:
Obviously I'm embarrassed and ashamed. It's no excuse, but this happened eleven years ago — I was younger, less mature, and acted foolishly in playing along. I'm very sorry.
While Bush was, of course, younger at the time when he asked Arianne Zucker, the soap opera actress whom Trump had moments before referred to as "it" while talking crudely about her body, to hug the then-59-year-old businessman. But Bush himself was no child: At 33 years old, he was (and is) very much responsible for his role in perpetuating a culture that both tacitly and overtly condones sexual violence. (Romper reached out to Bush's representative for comment but did not immediately hear back.) Perhaps that's why Today producer Noah Oppenheim was blunt in a memo circulated to staffers announcing Bush's suspension, which USA Today obtained. "Let me be clear: There is simply no excuse for Billy's language and behavior on that tape," he wrote. This was after NBC, the network that owns both Access Hollywood and Today, had originally said that Bush would appear on the show Monday, the first airing since the news broke.
Obviously, he didn't.
"He will never be on the show again," an source told CNN Sunday night, anonymously reporting the private sentiments among Today employees.
And Anthony Quintano, who was once at the helm of the Today show's social media outreach, pointed out Friday that that feeling may be especially strong among female employees, who make up most of the staff. "Won't go over well to keep Billy Bush around," he tweeted.
But it's not just women who should be outraged by Trump and Bush's crude, degrading conversation, even though we were the targets of their objectification and dehumanization. Although Trump was undeniably the driving force, a sycophantic Bush unabashedly and excitedly egged him on, either willfully ignorant of the fact that his companion was describing sexual assault, or perhaps caught up in the whirl of celebrity and unbothered by that fact. And that makes him not just a talk show host who's unlikely to ever win back the favor of his audience if he's ever allowed back on the air, but a person who on some level can find humor in the sexual assaults or exploitation some of its members have undoubtedly suffered — because 1 in 5 college-age women report having experienced a sexual assault, according to a 2015 Washington Post/Kaiser poll.
With that in mind, it seems abundantly unlikely that Bush will ever return to his job. Because more than they want to dismantle rape culture, more than they want to punish those who joke about sexual assault, all business enterprises aim to maximize their profits. NBC executives know that keeping Bush on would amount to the perception of a public pardoning of a cavalier attitude toward sexual assault. Viewers won't like the reminder of the type of "locker room banter" Bush has engaged in on their TV screens every day, so he probably won't appear there anymore.