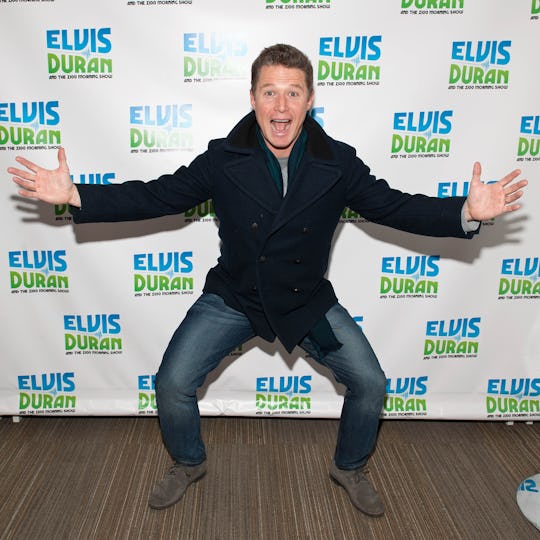 D Dipasupil/Getty Images Entertainment/Getty Images
Will Billy Bush Be On 'Dancing With The Stars'? A New Report Claims There Have Been Talks
Donald Trump reacted adamantly and without hesitation when a leaked 2005 video of him reportedly laughing and bragging about allegedly advancing on women sexually without consent surfaced Friday, asserting that, no matter what, he wouldn't abandon his run for the presidency. The fate of Billy Bush, his interlocutor in that would-be private conversation, however, has been shrouded in much more speculation, uncertainty, and rumors. The since-suspended Today show host, who worked for Access Hollywood at the time, is experiencing his own personal career crisis while Trump spirals in the polls (according to CNN, Bush's exit from Today is certain, with the two parties currently discussing terms of severance). Unfortunately, rumors that Bush will be on Dancing with the Stars, the rollicking ABC reality show known for jumpstarting and revamping the professional trajectories of struggling C-listers and fallen-from-grace celebs, appear to be just that: rumors.
On Thursday, as reports emerged that Bush was in talks to end his contract with his employer, NBC, Page Six reported that Dancing with the Stars — the same program that scooped up Ryan Lochte after the Olympic swimmer admitted to lying about being the victim of a burglary in Rio in August — was courting Bush for its 2017 season.
The problem, though, is that the tabloid cited one anonymous tipster as its source of information: "Everybody goes on to do the apology tour," the source reportedly told the outlet.
Romper reached out to Bush's representative for comment, but did not immediately hear back.
It's certainly true that DWTS oftentimes serves as an ideal platform for celebrities who want to repair their tarnished public images. Celebrity chef Paula Deen, for example, joined the show last year after she'd been labeled a racist during a 2013 scandal over her alleged use of the N-word. And it also works for those looking to gain the positive exposure needed to launch successful careers: Kim Kardashian competed way back in 2008, and now she's arguably one of the most famous people on the planet.
Bush, for his part, issued an apology soon after the video — in which Bush compels actress Arianne Zucker, whom Trump has just called "it" behind her back, to hug the mogul — went public last week. "Obviously I'm embarrassed and ashamed," he wrote. "It's no excuse, but this happened eleven years ago — I was younger, less mature, and acted foolishly in playing along. I'm very sorry."
Still, what has been perceived as Bush's tacit approval of sexual assault is likely anathema to many of those who regularly tune in for Dancing with the Stars, likely diminishing his chances of getting on the show, if he even wants to. (I'd argue that Deen's racist statements should have disqualified her just as much, but the show's execs obviously don't agree.)
Whatever Bush's next move, his reentry into the national spotlight may very well be a rough one, especially if he doesn't have a feel-good cushion like Dancing with the Stars to ease the transition.