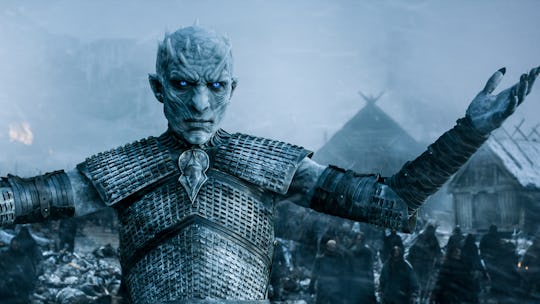 HBO
Will Bran Meet The Night's King On 'Game Of Thrones'? He May Not Come Back From His Vision
If Season 6 of Game of Thrones has given fans anything, it's the gift of Bran's visions into the past. And assuming his visions will get more intricate, and judging by the promo after Sunday night's episode, it leads us to wonder if Bran will meet the Night's King and actually touch him in his next vision. And if he does meet the blue-eyed White Walker king, what will happen to Bran? The next shot in the Episode 5 promo shows Meera trying to wake Bran up, but failing to do so as he is surrounded by an freaking fleet of White Walkers in his vision. We can only hope that if the Night's King touches him, that the other White Walkers aren't able to touch or even see Bran, and that Bran is able to return back to his body.
Since we still don't even know what sort of ramifications can come from Bran being able to interact with people in his visions, it's definitely hard to tell what his interaction with the Night's King will even be, if anything. Will Bran be stuck in his vision, unable to wake up? Or will it just be a false alarm, meant to warn him of what could happen if he spends too much time looking into the past? There what ifs on what could go wrong are endless, and with so much hanging on Bran's plot line this season (like confirmation of R+L=J and the Tower of Joy scene!!), it's devastating to think that he could be stuck warging.
Chances are, most likely, that Bran won't be stuck in this one vision forever since we've surely got more to see this season that only Bran can show us, but this teased vision of the Night's King and that army of White Walkers staring Bran down is different from the Stark-esque scenes we've seen so far. Isaac Hempstead-Wright, who plays Bran Stark on Game of Thrones, teased in an interview to TV Guide that Bran's visions are going to play an important role this season, especially when it comes to the White Walkers:
He's by no means a pro yet. But he has some pretty cool stuff he can do with his power. I think we can all tell things are going to kick-off soon enough [with the White Walkers]. Bran's power is one of the things that could be a real game-changer in one of those wars that are yet to come.
Bran will be meeting the Night's King on Game of Thrones, but the important thing for fans to think about is what that means for the other characters. Since up until now, Bran's visions have been exclusively about his family, his meeting with the Night's King could prove to be just as important — and will likely leave us with an important clue for the future.