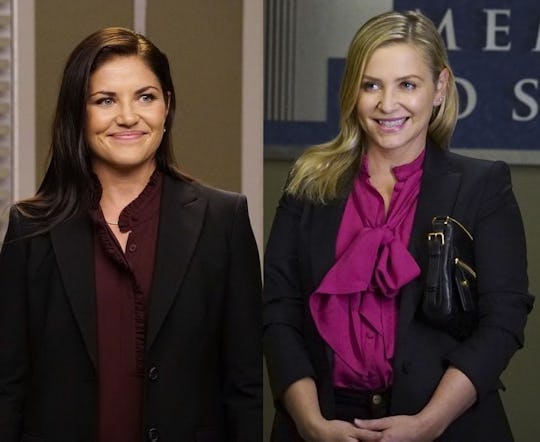 Kelsey McNeal, Richard Cartwright/ABC
Will Eliza Minnick & Arizona Get Together On 'Grey's Anatomy'? A Romance Is Possible
Ever since before Callie left Grey's Anatomy, fans were rooting for Arizona to find someone to be with. Now that a re-connection with Callie is totally off the table (was it ever really on the table, though?), she deserves love too. So, will Eliza Minnick and Arizona get together on Grey's Anatomy? The last time fans saw Arizona with a love interest was a long time ago, as she's been doing the single thing lately and enjoying girls' nights out with Richard as her wing man. (Totally adorable, by the way. Can they get their own spin-off someday?)
But with the introduction of Eliza, who might very well be taking Richard's job away, things could get interesting at Grey Sloan Memorial Hospital. Arizona's meeting with Eliza was a chance encounter, at the elevator of course, during which Arizona just had to ask why she wasn't high on her surgeons list of names to remember. And as soon as Eliza smiled at her, you could see the love connection spark between them as she said, "That name attached to that face? No, that's not one you forget." So does this mean that Eliza and Arizona are going to get together on Grey's? And if so, how long are fans going to have to wait for it?
Honestly, it might be a little while before Arizona and Eliza visit the whole relationship topic, mostly because almost everyone at the hospital currently despises the doctor who was sent in to basically tell Catherine everything that Richard and the other attendings have been doing wrong. The residents love her, of course, but if Arizona's friends and peers are automatically giving Eliza side-eye for interfering and being super in-your-face during surgeries, then a romance between the two might have to be put on hold until she can redeem herself.
At the end of the longest day in the history of the attendings' careers at Grey Sloan Memorial, Eliza met with Bailey to let her know that although she was still fielding offers from other hospitals, the idea of working there sounded appealing to her. She then punctuated it with something along the lines of, "I don't share authority, I am the authority," making it clear that she has absolutely no plans to share the position with Richard, should she choose to accept it.
And with the moon eyes she was already giving Arizona, something tells me that she'll have even more reason to accept Bailey's offer and literally push Richard out of his own job. I'm all for a new love interest for Arizona on Grey's, but when it's someone who has ruffled too many feathers in the one episode she's been in, it's kind of hard to root for them just yet. Only time will tell to see how this potential love story plays out.