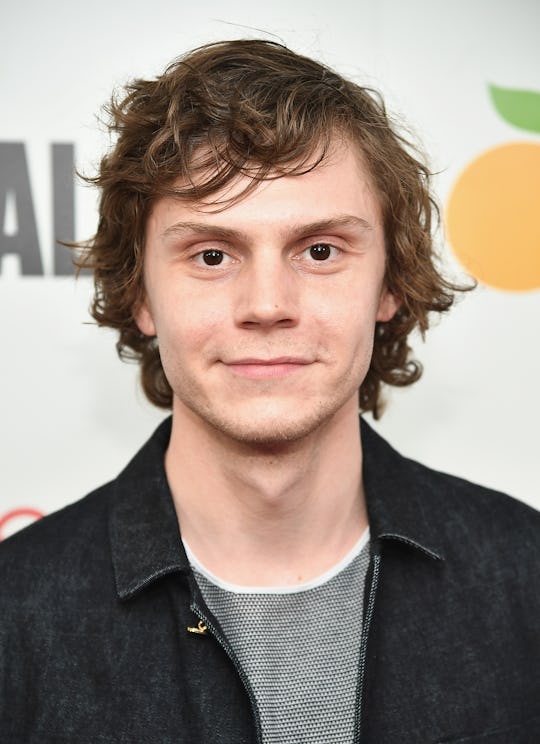 Dimitrios Kambouris/Getty Images Entertainment/Getty Images
Here's Everything We Know About Evan Peters' Role On 'AHS: Apocalypse'
Say what you want about Jessica Lange being one of the most notable and beloved actors that the American Horror Story franchise seems to have on retainer. Because every season, I come for Evan Peters, who's knocked it out of the park with every single one of his roles since Season 1. Now, fans are no doubt asking if Evan Peters will be on American Horror Story: Apocalypse, because Season 8 really wouldn't be the same without him. According to TVLine, a lot of the cast from past AHS seasons will be present for the much anticipated Murder House/Coven crossover season, including Evan Peters.
Over the past seven seasons of AHS, Peters has played mostly evil characters, but there have been a few that stand out as morally ambiguous or chaotic neutral. Like Freak Show's Jimmy Darling, for example, or Coven's Kyle Spencer. But, TVLine reported, Peters is going to reprise his role of one of his more menacing AHS characters to date — Tate Langdon from Murder House. My two all time favorite seasons of AHS were both Coven and Murder House, so this may be one of the best seasons to date. And that's really saying something.
While Peters' IMDB lists Tate as being in just one episode of the upcoming season, that could just be a mistake. Or, Peters could be playing more than one role this time around, and it certainly wouldn't be a first for him. Last season, he not only played Kai, one of the main characters of AHS: Cult, but also Charles Manson, David Koresh, and other famous cult leaders. AHS creator Ryan Murphy has posted a few different set photos of Peters in full Tate costume, so there's no denying that the evil ghost of Murder House will be back to wreak havoc.
But on Peters' own Instagram back in April, he posted a photo of himself in hair curlers with the simple caption of "#AHS." At a promotional event in April for AHS Season 8, Murphy revealed that Peters would be playing a "comedic" hairstylist. He also said that Peters' hairstylist character would be the grandson of Joan Collins' character and that he'd get to style her hair. So it's entirely possible that Peters has not one, but two roles to fill this season.
It makes sense that Tate will be making his first appearance on the show since Murder House, given the nature of the Season 8 crossover. The premise is the end of the world and the aftermath of it as well, and one of the main characters this season will be an adult Michael Langdon. You know, the supernaturally conceived child that Tate, dressed in the creepy rubber man suit, fathered with Vivien Harmon, before she too died and became a ghost on the Murder House property.
At the end of AHS Season 1, Constance, Tate's mother, told her hairdresser that the young boy was "destined for greatness." Then, in the next scene, she found him sitting in a rocking chair near his babysitter's dead body, solidifying the idea that little Michael was the anti-Christ. It was like a precursor to a sequel, and a sequel seems to be part of what AHS: Apocalypse is going to be for Season 1.
Naturally, Tate has to make at least one appearance since he did help conceive the boy. If Season 8 is anything like most of the past seasons, I fully expect genuine horror and scares very Wednesday night, interrupted only by the occasional loud commercial break. AHS: Apocalypse premieres on FX on September 12 at 10 p.m. ET.