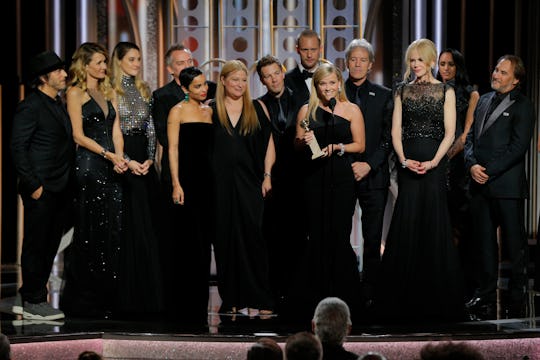 Handout/Getty Images Entertainment/Getty Images
You May See Less Black At The 2018 SAG Awards, But #TIMESUP Is Still Alive & Well
The Time's Up movement painted the 75th annual Golden Globes black to make an empowering statement against sexual harassment and inequality in the workplace, both in and out of the entertainment industry. Based on the comments made by prominent members of the initiative and the lasting progress it's made thus far, Time's Up is far from over. However, that doesn't mean that everyone will wear black at the SAG Awards on Sunday night. According to People, stylists sources said that any black ensembles you may see on the red carpet will simply be a fashion statement, and viewers can expect to see a variety of colors at the upcoming awards show, too.
The 2018 Golden Globes included a red carpet blackout of massive proportions. Over 300 actresses, actors, and other prominent members of the entertainment industry united in support of the Time's Up initiative by wearing black gowns and tuxes to send a clear message that they're speaking out against sexual harassment and will are behind the fight against gender inequalities. Meaningful fashion choices included all-black outfits, Time's Up pins, symbolic makeup looks, and bringing prominent activists as dates.
Founding members of the movement, Eva Longoria and Reese Witherspoon, went as one another's dates to the Golden Globes. "This is not a moment, it's a movement. Tonight is just one small part of that," said Longoria, according to People. While the movement hasn't ceased, the all-black dress code for supporters seemingly has. People reported that stylists are already incorporating color back into other award shows. For example, the Critic's Choice Awards featured a veritable rainbow of color, prints, and embellishments.
Stylists are already sharing photos of the colorful medley of clothing that viewers can expect to see at the 24th annual Screen Actors Guild Awards — which will be broadcast live from the Shrine Auditorium in Los Angeles on both TNT and TBS starting at 8 p.m. ET. According to The Hollywood Reporter, stylist Cristina Erlich — who has dressed big names like Margot Robbie and Penelope Cruz — shared a photo to Instagram on Friday with the caption, "Time for a little color..." which showed gowns in every shade imaginable.
But just because the stars have decided to put a bit of pigment back into their looks doesn't mean that they are backing down on the fight against injustice. Indeed, many stars were present at the 2018 Women's Marches held in cities all across the country. Celebrities such as Adele, Cameron Diaz, Scarlett Johansson, Jennifer Lawrence and more made their opinions and stances known by attending marches in big cities on the anniversary of President Donald Trump's inauguration.
Time's Up, in particular, is still present. Along with onyx ensembles and powerful messages, the initiative also created the Time's Up Legal Defense Fund, which provides funding for legal representation for victims of sexual harassment and assault as well as abuse in the workplace. So far, the fund has reportedly raised over $16 million to that end, according to TIME's Money magazine. Much of the funding has come from Hollywood faces, with supporters like Witherspoon, Meryl Streep, and Jennifer Aniston each donating a reported $500,000, according to Money.
Along with donating to the cause's GoFundMe account, supporters can also purchase Time's Up merchandise — including the Time's Up pin, T-Shirts, baby onesies, totes, notebooks and stickers at the Time's Up shop. Several gowns from the Golden Globes are also up for auction, as the Daily Mail reported, and all proceeds of that sale will be benefitting the cause as well.
While the army of celebs in black at the Golden Globes certainly made a powerful statement and jumpstarted Time's Up awareness, there are plenty of ways to continue to fight against injustice without wearing black to every awards show that follows. Donating time, money, and energy to important causes like the Time's Up Legal Defense Fund is another option; as is simply making your position known in your own workplace and letting those around you know that anything less than respect and equality will not be tolerated. The fight is far from over.
Check out Romper's new video series, Romper's Doula Diaries:
Watch full episodes of Romper's Doula Diaries on Facebook Watch.