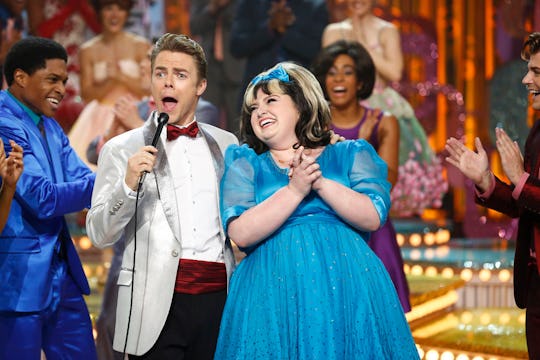 Justin Lubin/NBC
Will 'Hairspray Live!' Be On Hulu? You'll Want To Watch It Again & Again
Even if you were lucky enough to catch NBC's Hairspray Live! in real time, chances are, you're going to want to watch it again — or at the very least, your favorite musical numbers. So, will Hairspray Live! be on Hulu? The streaming service is known for hosting NBC shows and specials the day after they air, and I'm happy to reveal that it's looking like this production will be no exception. Viewers will be able to catch Hairspray Live! on Hulu too. Right now, you can only access some of the top clips and performances, so it seems the musical in its entirety has yet to be uploaded for streaming. But I doubt that'll be the case for much longer.
Since re-watching clips doesn't really have the same impact as watching the musical from start to finish, you might want to wait for Hairspray Live! in its entirety to be on Hulu. Still, watching some of the performances that were live when they were initially recorded should tide you over in the mean time. Shortly after the 2013 Sound Of Music Live! aired on NBC, it was available on Hulu, so it's only a matter of time (hours, really — maybe even by the time you finish reading this) until Hairspray Live! is on Hulu as well.
It's also likely the only streaming service that will offer you the chance to watch the musical again, as NBC Universal owns part of the streaming service. So you might be waiting a little while longer, but Hulu is the only place where you'll be able to stream Hairspray Live! Well, aside from the actual NBC website, of course. The full contents of the show is currently available on there as we speak. You can also find it on YouTube, though, it's always unclear how long something will remain on there.
Apparently, waiting patiently isn't the strong suit of Hairspray fans, though. Some woke up today expecting the entire musical to be available on Hulu right away and, as to be expected, they weren't able to find it anywhere else. It was also a three-hour event, airing until almost 11 p.m. (ET), so some viewers went to sleep with the anticipation of catching the rest of it on Hulu in the morning. Unfortunately, they woke up to Hulu's page for Hairspray Live! featuring clips and songs from the musical, but not the actual full-length movie just yet.
Will Hairspray Live! be on Hulu? Yes, it will no doubt be available for streaming on Hulu alone, but fans will just have to be patient to relive Jennifer Hudson's tear-inducing ballad as Motormouth Maybelle and all of that hairspray. Spoiler alert—I don't think any ozone layers were harmed in the making of this TV musical.
Until the full version of Hairspray Live! is available on Hulu, you can still re-watch some of the clips they do have while you wait. Or, if you're sick of waiting, just head over to the NBC site. You may have to deal with slightly longer commercial breaks than Hulu, but at this point, does it really matter?