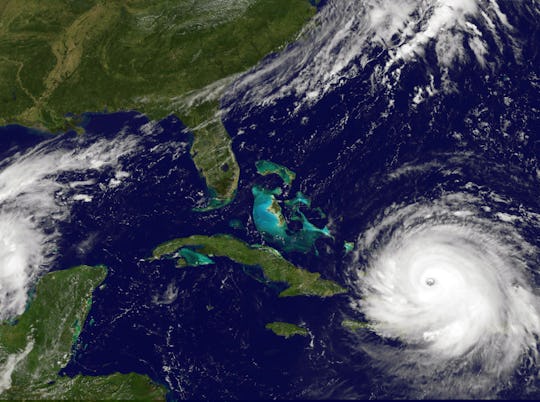 Handout/Getty Images News/Getty Images
Hurricane Irma Might Hit Georgia, Officials Warn
The world really does seem to be up in chaos lately. From a reality television star becoming the leader of the free world, to a rising threat of nuclear war, 2017 really hasn't been one of the best years so far. And less than two weeks after Hurricane Harvey struck the coast of Texas — flooding the city of Houston and nearby areas — a new threat, Hurricane Irma, is making its way towards the United States. And now, as evacuation orders and states of emergency have been declared, many are wondering if their city and state is in the path of destruction. For instance, will Hurricane Irma hit Georgia? There's definitely a possibility, but it likely wouldn't happen until next week.
Georgia Gov. Nathan Deal has officially declared a state of emergency and also "issued a mandatory evacuation order for areas along the coast, including the city of Savannah," according to The New York Post. However, if you're in Georgia, that doesn't mean you will be hit as hard as Puerto Rico was and Florida likely will be.
Fortunately, if Irma does hit Georgia, by the time it gets there early next week, it will have likely been reduced to a Category 1 storm, according to weather reports. Of course, a Category 1 storm is still significant, but it isn't as catastrophic as a Category 4 or 5.
"I encourage all Georgians in our coastal areas that could be impacted by this storm to evacuate the area as soon as possible," Gov. Deal said, according to The Atlanta Journal-Constitution.
Of course, it's always a good idea to evacuate if you're in a hurricane's path, even if the chances are quite slim. If Harvey has taught Americans anything, it's that hurricanes are vicious — and unpredictable.
So, if you're in Georgia, it's time to get prepared. You never know how a hurricane will impact your home, and if you are in fact in an evacuation zone in Georgia, it might be better to get out — if you are able to — as Gov. Deal is advising.
So, how do you know if you're meant to be evacuated? According to The Atlanta Journal-Constitution:
The mandatory evacuation order includes all of Chatham County and some areas west of I-95 that also could be impacted by Irma's storm surge. The governor's office said the evacuation order takes effect on Saturday.
The Atlanta Journal-Constitution has also reported that Gov. Deal has banned stores and companies from upping the prices of emergency supplies, so if you're low on anything, you might want to stock up. Hopefully, Irma's impact on Georgia will be minimal, but it's always better to be safe than sorry when a storm like Irma is possibly on its way.
Check out Romper's new video series, Romper's Doula Diaries: