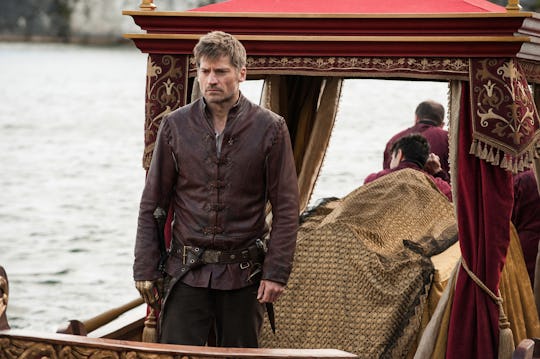 HBO
Will Jaime Kill The High Sparrow On 'Game Of Thrones'? He Might Avenge His Family
In the season premiere of Game of Thrones, we got to see a lot of almost every major plot from Season 5, which in itself was a surprise, since they could have easily waited on any Jon Snow info for like five more episodes. But what was noticeably missing from the premiere was the scene from the Season 6 trailer where Jaime confronts the High Sparrow, which has fans wondering if Jaime will kill the High Sparrow sooner rather than later. Or really, if he'll kill him at all.
Until now, Jaime has been known for his levelheadedness, especially compared to the vengeful sister lover of his. Which, OK, isn't saying much since Cersei is the best/worst villain of Game of Thrones, but by comparison, and even on his own, Jaime is a smart leader and devoted fighter. For the right cause. Now, though, he kind of has the perfect cause to fight for. And coming home fresh off the boat (literally) and fresh from the visual of having his own daughter die in his arms, he's undoubtedly filled with all sorts of rage.
Then, he finds Cersei in her already distressed and broken state, caused by The Faith and that, paired with Jaime's already fired up anger over losing their daughter at the hands of their enemies in Dorne, could make for a very vengeful and even irrational Jaime Lannister. The last time we saw true malice in him was when he pushed Bran from the window in Season 1, paralyzing him, and even that was insanely out of character for him.
In an interview with Entertainment Weekly, Nikolaj Coster-Waldau (Jaime) gave some insight into what his character is thinking and his next course of action from here. Two of his children are dead, with just the young King Tommen remaining — who is already distraught over The Faith imprisoning his queen, Margaery. And apparently, Jaime is ready to do whatever possible to protect what's left of his family:
"First the biggest enemy here, of course, is the Faith Militant, this religious uprising, being spearheaded by the High Sparrow. He has to deal with him. That's what he's gonna do."
If we remember correctly from the Season 6 premiere, after Cersei showed a human side we'd rarely seen before, speaking out about their daughter Myrcella's goodness and her own evil and undeserving ways, Jaime promised to avenge their family for all of the recent wrongdoings. Of course that likely means eventually waging a war on Dorne (especially with the Sand Snakes in control — why?), but right now he can turn his sights to the High Sparrow, and judging from the scenes from Episode 2, that's just what he intends to do.
Will the normally sensible and smart Jaime straight up plunge a sword into the man's throat with his good hand? Maybe not so soon. But another war is imminent, this one on The Faith, and while Cersei would gladly feed Margaery to Ramsay Bolton's dogs, Jaime no doubt realizes the importance of saving her, for Tommen's sake and sanity.
After all, a Lannister always pays their debts, right?