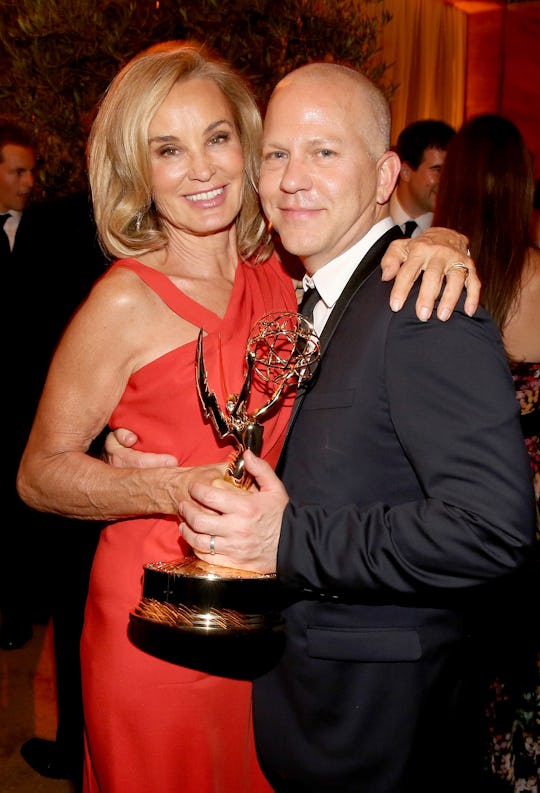 Christopher Polk/Getty Images Entertainment/Getty Images
Will Jessica Lange Return In 'American Horror Story' Season 7? Don't Get Too Excited
There are a few recurring American Horror Story actors who are largely considered "givens" for any particular season. Stars like Sarah Paulson and Evan Peters have appeared in literally every single installment of the horror anthology (a fact for which loyal fans are very, very grateful). Up through Season 4, Jessica Lange could be counted among that group of guaranteed stars as well. After her Freak Show character Elsa Mars exited stage left right into the afterlife, Lange departed the series — apparently for good. But is there any chance that Jessica Lange will be in American Horror Story Season 7?
This isn't the first time — and certainly won't be the last — that AHS fans are speculating about a surprise return by the series' first major star. Lange played (and earned oodles of acting nods for) iconic fan-favorite characters Constance Langdon, Sister Jude, Fiona Goode, and, of course, Elsa Mars. So it's no great shock that many viewers are holding out hope for a reappearance, no matter how brief.
Lange's comments on whether she'd return have varied over the years since her departure from the show. Initially, Lange confirmed her exit from the show back in early 2015, after Freak Show concluded and months prior to Hotel's premiere, with a simple "I'm done." However, in June of that year, when asked by The Wrap whether she'd ever consider returning for a future season, her answer gave heartbroken fans a glimmer of hope: "If Ryan came to me and said, 'Would you want to do a small character for a couple episodes?' I would absolutely say yes if I liked it."
It had already been announced that she wouldn't be returning for Hotel, the season immediately following Lange's official departure as a series regular, so naturally, hope turned towards a Season 6 cameo. Unfortunately, that didn't pan out either, despite our best efforts at excitedly theorizing about who Lange could potentially play. Even worse, in an interview on The Charlie Rose Show earlier this year, Lange re-addressed the idea that she could return with what was essentially a "hard pass," bluntly saying that, no, she would not return and remarked that "sometimes you come to the end of something and it has had its natural [conclusion]."
On the bright side, though Lange most recently wasn't interested in returning, it definitely seems like the door is open if she ever changes her mind. She and creator Ryan Murphy clearly have a close working relationship and are on good terms. In fact, Lange is currently starring in the inaugural season of Murphy's newest anthology series Feud as Joan Crawford, opposite Susan Sarandon's Bette Davis. That alone might mean that she won't have the time to reappear on American Horror Story — but if she's just making an AHS cameo or appearing in a bit role, never say never!
The subject matter for future seasons of the show also makes a Lange return a conceivable possibility. Murphy has already revealed that Season 7 will involve Season 4 — Lange's last season as a regular — and that it will explore the "deeper histories and mythologies" of Freak Show characters. Could that potentially include Lange's Elsa Mars? Maybe.
On top of all that, Murphy teased that a future season would be a Murder House/Coven crossover — two seasons that were arguably headlined by Lange's most popular AHS characters. How could she not return for that?
Well, logically, she could easily not return. But I'm choosing to remain hopeful that she'll drop in for a bit role (or a cameo as one of her previous fan-favorite characters). AHS (and Murphy) are always full of surprises.