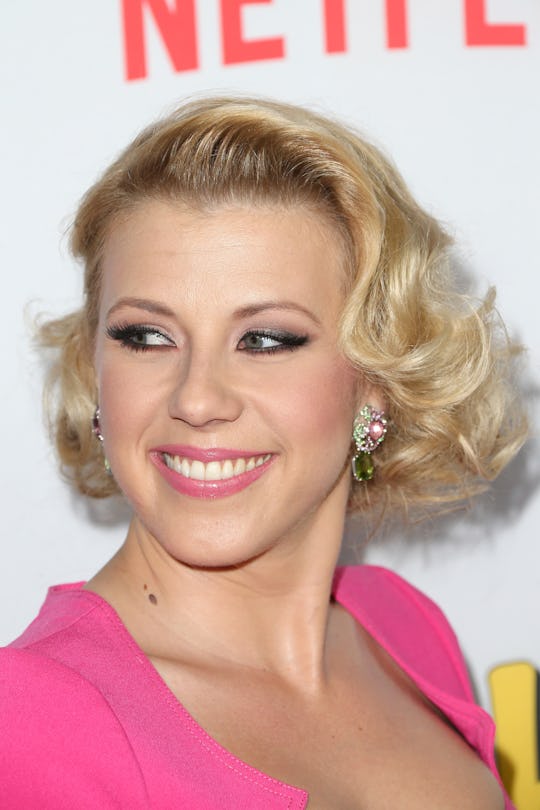 Frederick M. Brown/Getty Images Entertainment/Getty Images
Will Jodie Sweetin Win 'Dancing With The Stars'? She Could Take Home The Trophy
Pop culture is all about nostalgia these days, and Dancing with the Stars has had a long history of populating its cast with celebrities straight out of some of our favorite childhood classics. Stephanie Tanner taking the stage seems like a perfect fit — and not just because Jodie Sweetin could really kick it back in the day on Full House. After returning to the public eye, thanks to Netflix reviving her old series as Fuller House, Sweetin has made her mark for a second time, just as charming as she was as a little girl. Although, she's come a long way since her days of stretchy pants and adorable catchphrases, is her past enough to help Jodie Sweetin win Dancing with the Stars?
Sweetin proved that she has the moves on both iterations of Full House, and she even has a background in dance. Because of her history with dancing, it definitely seems like Sweetin can keep up with what is expected of her — in fact, she might even have a serious edge on the competition. Her partner, Keo Motsepe, is also a veteran of the reality show series, and while he's never made it all the way to the finals, Sweetin might provide the necessary push in fandom to get there. (Because, let's be honest, Stephanie Tanner and Jodie Sweetin both have a huge fan following.) But, pure talent isn't the only thing that helps launch someone further in a competition; personality and personal history play a big part, too.
After Full House wrapped, Sweetin was still just a teenager. She continued to act on a smaller scale and go to school, but she also found herself struggling with addiction. It was a tough journey towards sobriety, but according to People, she has now been sober for five years (in March) and is happily engaged with two adorable daughters. She also wrote a memoir about her life, unSweetined, that openly delves into her entire life, including both the highs and the lows.
It's difficult not to root for Sweetin on Dancing with the Stars. We've all watched her grow up, seen her deal with personal struggles, and then watched her emerge triumphant at the end of the day. Sweetin has mastered the art of making a comeback and she has a great foundation when it comes to dance, just check out her moves from Fuller House, so the odds definitely seem like they're on her side.