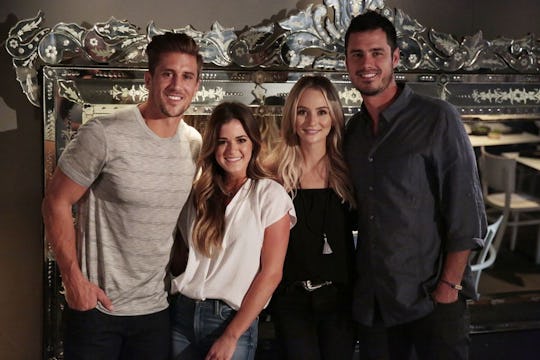 Freeform/Greg Zabilski
Will JoJo Be Invited To Ben & Lauren's Wedding? They've Moved Past All Of The Drama
Have you ever had lunch with your fiancé and his ex-girlfriend, along with her current fiancé and lived to tell the tale? Yeah, I didn't think so, and not only because all of those titles get confusing, but because usually, it's just not normal and would probably be super awkward. But with JoJo, Lauren, Jordan, and Ben, getting together to clear the air and bring some normalcy to the atmosphere actually worked. So, will JoJo be invited to Ben and Lauren's wedding, then?
On Tuesday's episode of Ben & Lauren: Happily Ever After?, JoJo called Ben and arranged for the four of them to get together, much to Lauren's chagrin and annoyance. The whole time leading up to the date, Lauren was questioning whether or not they should even go and wondering if Ben would realize that he still had feelings for the runner-up to his season of The Bachelor. (You know, the same woman he also told "I love you" to at the same time he was professing his love to Lauren.) Any woman would be weary of the interaction, but after a few awkward silences, the two couples managed to find common ground talking about quirky relationship habits like farting in front of each other, and it was surprisingly endearing.
But does this mean that JoJo and Lauren are about to be at BFF status? Probably not just yet. But it wouldn't be out of the realm of possibility for JoJo and Jordan to attend Ben and Lauren's wedding, especially now that they've squashed any tell-tale beef between them and have made it clear that any sparks between Ben and JoJo died out long ago.
Since ABC will be airing Ben and Lauren's wedding on TV, we can expect to see some Bachelor Nation favorites like the twins, Haley and Emily Ferguson attend. And since these alums already have connection to JoJo, the seating arrangements practically work themselves out. This season of Ben & Lauren has already promised appearances by several Bachelor and Bachelorette alums, who the couple have bonded with well, so there will likely be plenty of them in attendance at their wedding as well.
If JoJo and Jordan hadn't had that lunch date with Ben and Lauren, then they probably wouldn't be invited to the wedding. But since the meeting calmed Lauren's nerves and worries considerably, it wouldn't be surprising to see JoJo at least be considered as a possible guest for the big day. It certainly helps that JoJo has moved on too, though, and it wouldn't hurt the ratings game of the wedding if some of the more important Bachelor Nation players make appearances.
Although JoJo and Lauren aren't exactly braiding each other's hair at sleepovers just yet, they do have a history of bonding on The Bachelor. And now that they aren't competing for the love of the same man, they can finally be friends for real, which is something I think viewers would really like to see.