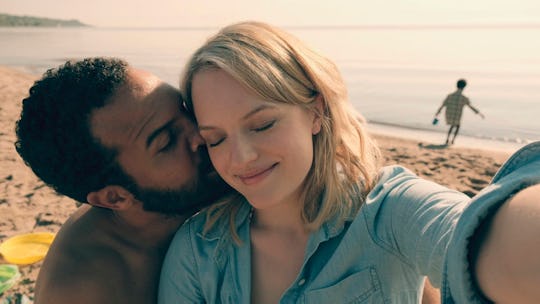 George Kraychyk/Hulu
Here's Why A June & Luke Reunion On 'The Handmaid's Tale' Probably Won't Happen For Awhile
Season 2 of The Handmaid's Tale only just premiered, and already so much has happened. Nick helped June, pregnant with their unborn baby, escape, Serena and Fred were left without a handmaid and a baby, and we were given another look into the beginning of the end before Gilead came to power. But the show hasn't spent much time in Canada, where Luke and Moira are currently living as refugees. So, will June and Luke ever reunite on The Handmaid's Tale?
They've been apart for years now in the show's timeline, but during Season 1, there was a glimmer of hope that Luke would find a way to get both June and their daughter Hannah back. When one of the officials took June aside during a visit to Gilead to tell her that he could get a message to her husband, it became clear that there is an underground network of people willing to overthrow the new government, but right now, Luke himself doesn't have any power in Canada.
When Season 1 left off, viewers at least knew that he was determined to find her somehow and in one of the previews for Season 2, he can be shown holding up a sign with a large photo of himself, June, and Hannah. With that in mind, there's a good chance that he'll be working toward finding June and attempting to bring her to Canada somehow. But does that mean that Luke and June will reunite during The Handmaid's Tale Season 2?
With the way things are moving right now, I would say that if June and Luke were to reconnect and see each other again during Season 2, it won't happen until the end of the season. As it stands, June is still in hiding and on the run. As Nick said, she's far more valuable than any other woman who might be on the run in Gilead. Not only is she a handmaid, but she's pregnant with a commander's baby, at least as far as the general population is concerned. She can't make a run for the border like Moira and other former handmaids were able to do, so chances are, much of Season 2 for June is going to be about moving quickly and quietly through the night rather than making a straight line for Canada and "Little America."
I also can't see June's time in Gilead ending any time soon. If and when she's reunited with Luke, it will no doubt be north of the border. If June makes it to Canada, then we as the audience lose part of our look into Gilead. Even though June isn't the only important character that the show follows, I still don't see her making it out of the country right away. Or, at the very least, not until closer to the end of the season. So if that really is how the season goes, then June and Luke could very well reunite by the end of Season 2, if not further on down the line.
In general, fans are pretty torn between both Luke and Nick. On the one hand, Luke is June's husband and they have this long and important history together. But on the other hand, Nick has been with her through some tough times as a handmaid. I don't even know if it's a situation of June ending up with one or the other, but at some point at the end of Season 2 or shortly thereafter, she and Luke will probably reunite. It may or may not be a happy reunion when it comes, especially since she's currently pregnant with another man's baby (which was conceived during passion rather than ceremony), but that alone will be an interesting new dynamic for the show.
Check out Romper's new video series, Romper's Doula Diaries:
Watch full episodes of Romper's Doula Diaries on Facebook Watch.