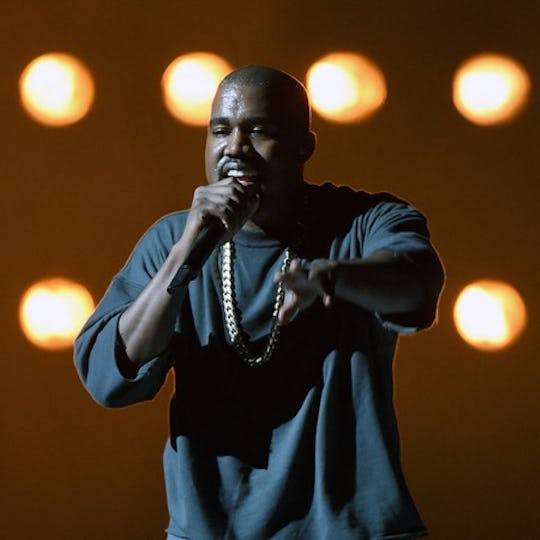 Ethan Miller/Getty Images Entertainment/Getty Images
Will Kanye West Do A 'Life of Pablo' Tour? His Schedule Is Pretty Packed
Kanye West fans just had a big weekend. The rapper released his latest album, The Life of Pablo, in the early hours of Sunday morning, after his performance on Saturday Night Live. Now, fans are wondering if there will be a Life of Pablo tour. He did go on tour to promote his previous album, Yeezus, but that was preceded by a five-year gap in touring, so it's not exactly a lock. But then, nothing is for sure when it comes to West; The Life of Pablo is currently only available on Tidal, and the artist tweeted on back to back days that "it will never be for sale" and that he's only holding it back for a week, so who's to say? The man's a mystery. As of now, though, he hasn't said anything about a Life of Pablo tour.
Further complicating things is the fact that West's previous tours have been fraught with drama. He postponed dates on the Yeezus tour due to issues with his massive, unwieldy set (it included a 60-foot, circular LED screen and a mountain), and then postponed the Australian leg of the tour because the album wasn't even finished, according to Australia's ABC.
And let's not forget the time he canceled an entire tour with Lady Gaga. Rumors swirled around the possible reasons for the cancellation, which Gaga claimed was a mutual decision, according to MTV. But the timing was interesting; it occured just after West's now-infamous interruption of Taylor Swift at the MTV Video Music Awards. Gaga ended up touring alone while West stayed home.
And, of course, we can't discount the possibility that he just might be too busy to tour. The Life of Pablo album took ages to finish; West said that it was "80 percent" done a year ago, according to Fuse. West also just released his third fashion collection (yes, it was weird and drab again; Hollywood Life has pics). He also collaborated with Adidas to design sneakers, hoodies, and bags. On top of all that, he's also got a toddler and a new baby at home, and one more thing: he also just announced that he designed a video game. Kotaku has a trailer; the game is apparently about West's mother, Donda, riding a pegasus to Heaven.
Taking all of that into account, I can't see where West would find the time to squeeze in a Life of Pablo tour, and he's not exactly the most reliable guy when it comes to tours, anyway. Maybe fans will just have to be satisfied with all his other ventures. At least we'll always have his twitter rants.