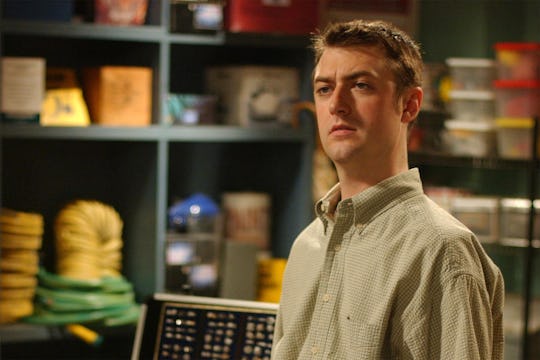 Warner Bros.
Will Kirk Return For The 'Gilmore Girls' Revival? Sean Gunn Was A Star's Hollow Staple
When the news hit that Gilmore Girls would be returning for a four-part continuation of the popular and widely beloved series, dedicated fans everywhere started wondering who would be returning, along with our two favorite signature brunettes. And while actors like Milo Ventimiglia (Jess) and Melissa McCarthy (Sookie) were confirmed, you may have found yourself still wondering about other character fates, like Kirk and Lulu. So, is Kirk returning for the Gilmore Girls revival? Like much of the original cast, Sean Gunn will be back to reprise his role of the quirky Stars Hollow favorite.
There's been only one official trailer released for Gilmore Girls: A Year in the Life, but in it, Kirk was featured in at least one scene. In this case, it was a Friday night dinner at Emily's house, which is actually an appropriate setting to find Kirk in, since he's known for getting himself into random and weird situations.
Then again, the trailer for the Gilmore Girls revival features a lot of short scenes that give viewers just a taste of what to expect, so not knowing much about Kirk's return to Gilmore Girls is pretty much expected. But maybe this means that, somehow, Kirk has found his way in life and with Lulu's help, has found a way to settle down instead of settling for the many odd jobs around town.
Of course, the important thing is that Kirk is returning to the Gilmore Girls revival at all, though. And as a warm presence in every scene he shared with Luke, his place at Emily's table could only mean good things. Maybe he's there to help clean out all of the things in Emily's seemingly rigorous cleansing of the house, or maybe he just missed Rory and wants to hang out with the Gilmore women as much as possible.
Or, and bear with me here, what if Lulu is pregnant and so is Rory or Lorelai and he wants to hang around for some parenting advice? That might just be wishful thinking, but in this kind of unorthodox miniseries continuation of Gilmore Girls, it's safe to say that anything can happen.
Gilmore Girls: A Day in the Life will premiere on Netflix On Nov. 25 with four 90-minute episodes that will each feature a season in the lives of not only Rory and Lorelai, but everyone in their life as a whole. Get excited, because this Gilmore Girls revival has been almost 10 years in the making.