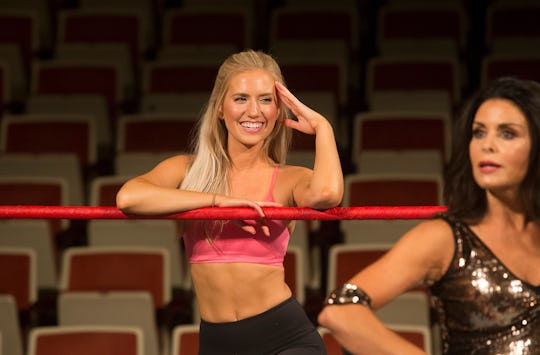 Paul Hebert/ABC
Lauren's Odds Of Being The Next 'Bachelorette' Rely Heavily On Arie's Decision
Typically, the next season's Bachelorette is decided from amongst the top three rejected candidates from The Bachelor. So if Arie chooses Becca Kufrin in the end, will Lauren Burnham be the next Bachelorette? Well, simply being The Bachelor's runner-up does not actually guarantee anyone the spot. They also have to have that oh-so-elusive quality of "likability" which seems to have no well-defined characteristics, just a general, ephemeral thing that makes people want you to fall in love. JoJo Fletcher was "likable" and so was Ben Higgins (mostly). Arie started off fine, but his likability factor has been all over the place recently. So does Lauren have it?
Let's start first with the fact that she might win. She and Becca are pretty much neck and neck in this race and it's anyone's guess who takes that final rose. Unless, of course, you've read the spoilers in which case you already have all of the answers. So perhaps the magnetic pull Lauren seems to have on Arie actually secures her an engagement in the end. In that case the whole point is moot. But if Arie chooses Becca over Lauren, depending on how heartbroken she is, she has a good shot at being the next Bachelorette. She wouldn't necessarily be a shoo-in, though.
Viewers have already been speculating about next season's Bachelorette and who might helm the show. The most popular choices (online anyway) for the next Bachelorette seem to be Tia and Seinne. Both women made it close to the end for Arie, and have developed strong fan-bases. Where Lauren barely seems to speak a word to anyone, Tia and Seinne both have more outgoing personalities and obvious smarts that garnered them a ton of attention on the show as well as a pretty committed fan-base. Tia won everyone's hearts with her no-nonsense attitude, maturity, and quirky sense of humor. Seinne made intersectional feminists the world over swoon when she patiently explained The Bachelor and the problems of representation on the show on their one-on-one date.
Unfortunately for Lauren, she hasn't been able to make quite as strong of an impression on audiences as these two women have, or other fan-favorites like Bekah M. or Kendall Long. Personally I think both Bekah M. and Kendall are too off-beat to be considered Bachelorette leads, even though they are two of my favorite contestants on the show. Lauren may be conservative enough for the reality series, but she hasn't shown enough personality to get people truly invested in her. Above all, when casting a lead for the show, producers of The Bachelor need someone who the audience is going to root for and care about.
Quite frankly, I'm not even convinced that Lauren would want to be The Bachelorette. I'm giving her the benefit of the doubt and assuming that at least some of her quietness on the show is due to her being uncomfortable and self-conscious around the cameras. She always seems hyper aware that they're there, as though constantly glancing over out of the corner of her eye. Would she really love having the camera staring at her the entire time for 10 straight weeks?
So basically, I don't think that Lauren will be the next Bachelorette. I don't know for sure because I don't work at ABC, but I simply don't think she has the kind of personality that will draw people to the show. And with sliding ratings, the show really needs an electric lead for the next season of drama. Don't worry about her though. Win or lose, Lauren will be just fine.
Check out Romper's new video series, Romper's Doula Diaries:
Watch full episodes of Romper's Doula Diaries on Facebook Watch.