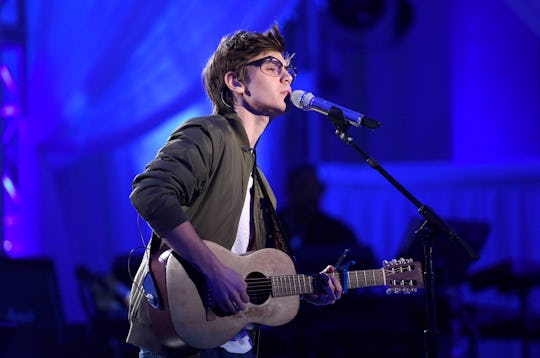 Michael Becker/FOX
Will MacKenzie Bourg Make 'American Idol's Top 14? He's Been Killing It In His Performances
American Idol kicked off this week with the show's semi-final round, meaning that for the next two weeks, as the judges narrow down the field from 24 to 12, viewers will have to say goodbye to their favorite performers — and everyone's favorite might be one of them. From auditions to Hollywood Week, a few contestants have stood out to both viewers and the show's three judges. That means that the question on everyone's mind currently is whether MacKenzie Bourg will make it to the top 14 of American Idol, or whether he'll be sent home early.
Personally, I hope he makes it through, because the guy has been killing it in his performances lately. On Wednesday night's episode, Bourg was second to perform in front of the judges and live audience. The 23-year-old performed A Great Big World's 2013 hit, "Say Something", and all of the judges had very positive marks about the performance.
"It felt like you did really good up there," judge Jennifer Lopez said about the performance. "The song felt like you." Judge Keith Urban too had nothing but positive remarks for the singer/songwriter, adding, "It felt like that song was your own song. Really good song choice MacKenzie."
This is going to be the very last semi-final round ever for the reality competition, as it is currently in its last season on FOX. At the beginning of Wednesday night's show, Ryan Seacrest announced that 12 of the top 24 contestants in the semi-final round would sing a song of their choice at a pre-taped show in Los Angeles. (This year, the judges will be deciding the Top 14, rather than the audience, which it has done in the previous years.) Then on Thursday, the contestants are slated to come back and perform a duet with a favorite former American Idol winner or contestant. At the end of Thursday's episode, five singers will be leaving the show.
Bourg will return to the American Idol stage Thursday night where he'll perform a duet with an unknown Idol alum. (According to the Idol gossip grapevine, Bourg will survive this week's elimination after killing it in his duet performance, although no one's sure who his partner will be.)
Most recently week, Bourg wowed the audience his sensitive side, performing an original song titled "Roses" for the judges and cementing his place as a fan favorite while simultaneously proving that he was more than someone who only could sing other people's songs.
Over the past few weeks, Bourg has made a great impression on all three of the judges and the Idol fanbase, setting the standard for the competition and the rest of his run. Will Bourg make it to the Top 14 finalists? Let's just say, he'd have to ruin his duet tomorrow wholeheartedly before that happened.