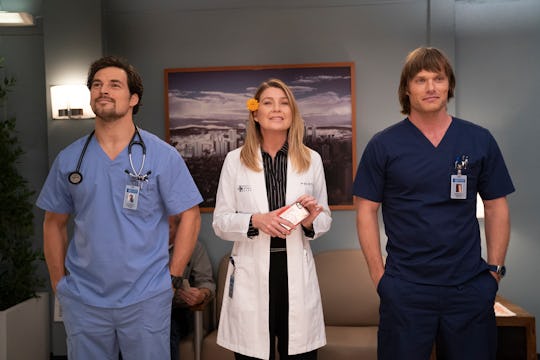 Mitch Haaseth/ABC
Meredith & DeLuca Could Be Endgame On 'Grey's Anatomy'
Until recently, I couldn't see Meredith with anyone on Grey's Anatomy except for Derek, the original McDreamy. But now that she's ready to move on, I think it's OK that we as fans move on as well and open ourselves up to the possibility that Meredith could have another great love in her life. I'm not sure if that's going to be DeLuca, but that seems to be a possibility. So will Meredith and DeLuca officially get together on Grey's Anatomy this season? Riggs was the perfect first romance to get her back in the saddle, so to speak, and now that she's dating, the guy for her could have been under her nose this entire time.
The first official trailer for Season 15 showed Meredith in bed with DeLuca and although that was just a dream sequence to quench her thirst for a warm body, it could have been some heavy foreshadowing. There's also the matter of their little kiss at Alex and Jo's wedding at the end of Season 14. According to Giacomo Gianniotti, who plays DeLuca, that's what jump-started this whole thing.
"We didn't know what it meant but there was something there," he teased to Entertainment Tonight about that kiss. "I think [this season] we're going to see something blossoming between them — a friendship? A friendship that could be more? At the moment, we don't know. We're only on the sixth episode. We are definitely building some romance, but to what degree, I don't know."
He pointed out that after losing a great love of his own, Sam, who moved to Switzerland to work with Cristina after fearing being deported, he and Meredith could find love again with each other. "I'm hopeful that maybe this season he can find someone that could last," Gianniotti added. "Who knows? Maybe it could be Meredith."
Before Season 15 began, showrunner Krista Vernoff told Deadline that the season would focus on different love stories more than it had in the past, specifically for Meredith. "I hope for everyone who's ever loved and lost, there's a possibility of more than one great love, and I have to believe it's possible for Meredith Grey," she said. "Whether or not we will land on that great love story this season, I don't know, but boy, is she putting herself out there in a new way."
She also compared newcomer "ortho God" Linc to the late Mark Sloan and as he's the only other viable contender for Meredith, I see DeLuca winning that battle for Meredith's heart. If DeLuca is the new Derek and Linc is more reminiscent of Mark, then we all know how this story ends. If someone else came along in the next few episodes and seemed like a better match for Meredith, then things might shift away from DeLuca, but he's the best guy for her right now and he deserves love too, right?
Just looking at the parallels between Meredith and Derek's love story and the potential one ahead for her and DeLuca, there are some big similarities. This time around, Meredith is the doctor who's higher up on in the ranks and has relationship baggage. And DeLuca is a little younger and less experienced, but with past heartache of his own. They also haven't jumped into anything major other than that possibly drunken kiss at the wedding last season.
In terms of serious contenders for Meredith right now, I'd place DeLuca at the top of the list. He already seems totally smitten with her. While I see this potential romance being painstakingly drawn out, I also see Meredith ending up with DeLuca in the end. There's no way there would be this much tension and lead-up if the plan wasn't to have Meredith and DeLuca eventually get together.